Less accounts from criminals, thieves, killers and robbers.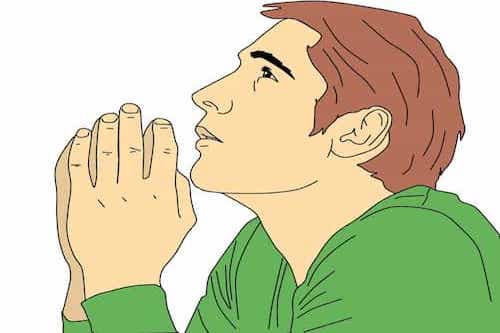 I will pray
God
my Lord and your Lord to take less accounts from all those criminals, killers, robbers those who are poor and in stressed situations, in countries regions where life is difficult and stressed. There are some among you who even kill their children sometime out of stress
hunger
poverty
. How can a mother kill her children no by your Lord there must be something wrong in the towns. Where were the leaders, the rulers of that community when such things were happening. Don't they have responsibility. By your Lord they will have a very severe account on the day of judgment. That day they will pray if they could return back and do good deeds. Corruption has appeared on the land and the sea because of what the hands of people have earned so that He may let them taste a part of what they have done so that they may return.
O people if we confess our sins, Your Lord is faithful and just to forgive us our sins and to cleanse us from all unrighteousness. Forgive other people when they sin against you, your Lord will also forgive you. But if you do not forgive others their sins, your Lord will not forgive your sins. The Lord longs to be gracious to you; therefore he will rise up to show you compassion. For the Lord is a God of justice. Blessed are all who wait for him. You will weep no more. He will answer you soon.
我会祈祷上帝我的主和你的主,少记那些贫穷的罪犯,杀手,强盗 ,尤其是生活困难和贫穷的国家地区。有些人甚至在有时因为饥饿贫困而杀了他们的孩子。母亲怎么可能杀死她的孩子,而你的主却不知,肯定有什么不对的地方。当这样的事情发生时,领导人在哪里,那个社区的统治者在哪里。他们不负责任。你的主在审判的那天,他们将有一个非常严肃的理由。那一天,他们会祈祷,如果他们能回来,做好事。贪污腐败出现在陆地和海洋上,因为人们的行为赚取的,所以他可以让他们为他们的行为付出一些代价,以便他们可以回来。
如果我们承认我们的罪,主是忠心的,会赦免我们的罪,洁净我们的一切不义行为。 当别人欺负你们时,学会原谅他们,你们的主也必饶恕你们。但如果你不原谅别人的罪,你的主也不会原谅你的罪。耶和华渴望对你们有恩典。因此他会向你表示同情。因为耶和华是公义的神。所有等待他的人都有福了。你不会再伤心的哭了。他很快就会回复你。
من به درگاه خداوند دعا می کنم که جنایتکاران، دزدها و خلافکارانی که فقیر هستند و در شرایط سخت در کشورهایی که زندگی دشوار است، زندگی می کنند کمتر مجازات شوند. کسانی در بین شما هستند که به دلیل گرسنگی و یا فقر فرزندان خود را می کشند. یک مادر چطور می تواند فرزند خود را نابود کند؟ نه خدایا در این شهرها مشکلاتی وجود دارد. رهبران وسردمداران آن جوامع کجا بودند زمانی که این اتفاقات می افتاد؟ آیا آن ها مسئولیتی در قبال این مسائل ندارند؟ آن ها در روز قیامت به سختی حساب پس می دهند. در آن روز آن ها به خداوند التماس می کنند تا به دنیا بازگردند و جبران کنند. فساد در زمین در حال گسترش است به دلیل دستاوردهایی که انسان ها کسب کرده اند، و خداوند اجازه می دهد کمی از جزای کارهایشان را بچشند و در نهایت به سوی خدا بازگردند.
ای انسان ها اگر به گناهانمان اعتراف کنیم، خداوند بزرگوار و عادل است و گناهان ما را می آمرزد و ما را از بدی ها پاک می کند. کسانی که در حق شما بدی می کنند را ببخشید تا خداوند نیز شما را ببخشد اما اگر شما گناهان دیگران را نبخشید، خداوند نیز شما را نخواهد بخشد. خداوند بخشنده است و لطف و رحمت خود را به شما نشان می دهد، چون او عادل است. تمام کسانی که منتظر او هستند سعادتمند می شوند. دیگر گریه و زاری نخواهید کرد، خداوند به زودی پاسخ شما را خواهد داد
Я буду молиться Богу, своему и вашему Господу, за всех этих преступников, убийц, грабителей тех, кто беден и находится в стрессовых ситуациях, в странах, где жизнь трудна и напряжена. Среди вас есть даже те, кто убивают своих детей из-за стресса от голода. Как мать, а не Господь, может лишать жизни своих детей, наверное, в городах что-то не так. Где были лидеры, правители этого общества, когда такие вещи происходили. Разве они не несут ответственности. У них будет очень жесткий счет в день суда. В тот день они будут молиться о своем возвращении и совершении добрых дел. Коррупция появилась на земле и в море из-за того, что заработали руки людей. И Он дал им возможность попробовать то, что они сделали.
О, люди, если мы признаем наши грехи, ваш Господь простит нам наши грехи и очистит нас от всякой неправедности. Простите других людей, когда они грешат против вас, ваш Господь простит вас. Но если вы не прощаете другим их грехи, ваш Господь не простит вам ваши. Господь хочет быть милостивым к вам, поэтому он восстанет, чтобы показать вам, что такое сострадание. Ибо Господь есть Бог правосудия. Блаженны все, кто ждет его. Вы больше не будете плакать. Он ответит вам в ближайшее время.
Rezaré a Dios, mi Señor y su Señor, para que tomen menos cuentas de todos esos delincuentes, asesinos, ladrones, pobres y en situaciones de estrés, en países donde la vida es difícil y estresada. Hay algunos entre ustedes que incluso matan a sus hijos en algún momento por la pobreza, de hambre o de estrés. ¿Cómo puede una madre matar a sus hijos? No por su Señor, debe haber algo malo en las ciudades. ¿Dónde estaban los líderes, los gobernantes de esa comunidad cuando tales cosas estaban sucediendo? No tienen responsabilidad. Por su Señor tendrán un relato muy severo en el día del juicio. Ese día pedirán poder regresar y hacer buenas obras. La corrupción ha aparecido en la tierra y en el mar a causa de lo que las manos de las personas han generado para que Él les permita probar una parte de lo que han hecho para que puedan regresar.
Oh pueblo, si confesamos nuestros pecados, Tu Señor es fiel y justo para perdonar nuestros pecados y limpiarnos de toda injusticia. Perdona a otras personas cuando pequen en contra de Ti, su Señor también lo perdonará. Pero si no perdonan a otros por sus pecados, su Señor no los perdonará por los suyos. El Señor anhela ser misericordioso con ustedes; Por lo tanto se levantará para mostrarles compasión. Porque el Señor es un Dios de justicia. Bienaventurados todos los que lo esperan. Ya no llorarán más. Él les contestará pronto.
Tanrı'ya, Rabbime, Rabbinize, bütün bu suçlulara, katillere, hırsızlara, fakir olup stres dolu durumlar altında olanlara, yaşamanın zor olduğu yerlerde, ülkelerde yaşayanlara daha az günah yazsın diye dua edeceğim. Aranızda stres, açlık, fakirlik gibi sebeplerden ötürü kendi çocuğunu dahi öldürenler var. Bir anne nasıl olur da kendi çocuğunu öldürebilir, hayır, Rabbiniz adına, oralarda yanlış giden bir şeyler olmalı. Bu tür şeyler olmaktayken o toplumun liderleri, yöneticileri neredeydi? Onların hiçbir sorumluluğu yok mu? Rabbiniz adına, kıyamet gününde onların üstünde çok büyük bir günah olacak. İşte o gün onlar, geriye dönüp iyilik yapabilirler mi diye dua edecekler. Karalarda ve denizlerde, insanların ellerine geçenlerden ötürü, onlar ne yaptıklarını bir tatsınlar ve böylece yollarından geri dönsünler diye bozulmalar görülmeye başlandı.
Ey insanlar, günahlarımızı kabul ettiğimiz takdirde Rabbiniz bize karşı, günahlarımızı affedecek ve bizi bütün adaletsizlikten arındıracak kadar inançlıdır. Başkaları size karşı günah işlerse onları affedin ki Rabbiniz de sizi affetsin. Fakat başkalarını günahlarından dolayı affetmezseniz, Rabbiniz de günahlarınızı affetmez. Rab, size karşı lütufkar olmak istiyor. Bundan dolayı O, size merhamet göstermek için gelecektir. Çünkü Rab, bir merhamet tanrısıdır. Onu bekleyenler ne mutlu. Artık ağlamayacaksınız. O, size yakında cevap verecektir.
میں خداوند اپنے خدا سے دُعا کروں گا کہ ان تمام مجرموں ، قاتلوں، ڈاکوؤں، ان تمام ملکوں اور علاقوں میں جہاں زندگی مشکل اور پریشان کن ہے ا ن غریبوں سے جو بدحال ہیں ، کم حساب لے۔تم میں سے کچھ ایسے ہیں جو غربت، پریشانی اور بھوک کی بناء پر اپنے بچوں تک کو مار ڈالتے ھیں۔ کوئی ماں اپنے بچے کو کیسے مار سکتی ہے۔ نہیں خداوند کی قسم ان بستیوں میں کوئی خرابی ہے۔ اس کمیونٹی کے لیڈر کہاں تھے جب یہ سب باتیں ہو رہی تھیں۔ کیا ان کی کوئی ذمے داری نہیں ہے ۔ تمہارے خدا کی طرف سے روزِمحشر ان کا بہت سخت حساب ہو گا۔ اس دن وہ دُعا کریں گے کہ کاش وہ واپس جا سکیں اور اچھے اعمال کر سکیں۔ کرپشن زمین اور سمندر میں ظاہر ہوئی ہے کیونکہ جو کچھ لوگوں کے ہاتھوں نے کمایا ہے تاکہ وہ انہیں اس کا کچھ حصہ چکھا سکےجو انہوں نے کیا ہے تاکہ وہ واپس لوٹ آئیں۔
اے لوگو اگر ہم اپنے گناہوں کا اقرار کریں ، تمہارا رب وفادار ہے اور ہمیں گناہوں کی معافی دے گا اور ہمیں تمام عیبوں سے پاک کرے گا۔ جب لوگ تمہارے خلاف گناہ کرتے ہیں تو انہیں معاف کرو، تمہارا خداوند بھی تمیہں معاف کرے گا۔ لیکن اگر تم دوسروں کے گناہ معاف نہیں کرو گےتو تمہارا خداوند بھی تمہارے گناہ معاف نہیں کرے گا۔ خداوند تم پر اپنا فضل کرنے کا انتظار کرتا ہے؛ اس لئے وہ تمہیں اپنی رحمت دکھانے کے لئے اٹھے گا۔ کیونکہ خدا انصاف کا خدا ہے۔ مبارک ہیں وہ جو اس کا انتظار کرتے ہیں۔ تم مزید نہیں روؤ گے وہ تمہیں جلد جواب دے گا۔