QURAN FACTS & FIGURES
Interesting Facts About The Holy Quran
Quran Facts Figures Regarding Verses, Words, Huroofs And Their Usage With Animations and Graphs

Quran Total Number of Chapters:
114
Quran Total Number of Makki Surahs:
86 (75.4%)
Quran Total Number of Madni Surahs:
28 (24.6%)
Quran Total Number of Verses With BismiAllah:
6348
Quran Total Number of Verses:
6236
Quran Total Number of Words:
77,797
Quran Total Number of Unique Words:
14,870
Quran Total Number of Letters:
330,709
Quran has a Total of 114 Surahs/Chapters with 86 (75.4%) Surahs/chapters revealed in Mecca and 28 (24.6%) chapters in Madina. Total number of verses in Quran is 6236 with the BismiAllah not included except for Surah Fatihah. With Bismillah included the total number of Quranic Verses is 112 + 6236 = 6348. Out of 6236 total verses 4613(76%) verses revealed in Mecca and 1623(26%) of verses revealed in Madina. There are a total of 77,797 Words in Quran. These words are distributed as 47,638 in Makki Surahs and 30,159 in Madni Surahs respectively. Although the total number of words in Quran are 77,797 but the number of "Unique Words" that is words without repetition is 14,870. Quran has a total number of 330,709 Letters/Characters. These Letters are distributed as 200,137 in Makki and 130,572 in Madni Surahs.
TOUCH THE BOXES TO QUICKLY TEST YOUR KNOWLEDGE
Average Word Length In Quran
The average word length of Quran is 4.25 i.e on average they constituted of 4.25 letters. The average word length in Quran for Makki Surahs is 4.20 and for Madni Surahs 4.33 letters per word.
Longest And Shortest Word in Quran
This is an average while the smallest or shortest word of Quran is constituted of Just 1 letter and is "ن" in verse 1 of Surah Qalam chapter 68 and the longest word is "فأسقيناكموه" in verse 22 of Surah Hijr chapter 15 and it is constituted of 11 letters/characters.
Shortest And Longest Verse in Quran
The shortest verse of Quran has 9 nine candidates all contains 2 letters. Either first verse of Surah Taha and Yaseen starting with "طه" and "يس" respectively or first verse of Chapter 40 to 46 of Quran i.e Surah Ghaafir, Fussilat, Ash-Shuara, Az-Zukhruf, Ad-Dukhan, Al-Jathiyah and Al-Ahqaaf starting with "حم". The longest verse of Quran is verse 282 of Surah Baqarah it contains 129 words and 1010 letters.
QURAN STATISTICS GRAPH
PLEASE TOUCH THE BARS TO SEE THE INFORMATION
The "BismiAllah" opening phrase is mentioned at the beginning of 113 Surahs and once in Surah Naml verse #30, thus 114 times in total in the whole Quran.
ARABIC LETTERS/HUROOF USAGE IN QURAN
The Graph Below Shows The Usage of Arabic Letters/Alphabets In The Construction Of Quran.
There are 28 Letters/Alphabets in Arabic Language. But They have Variations And Thus In Quran 36 Variations Of Alphabets Used. Out Of Which 5 Most Used Letters/Alphabets are Alif "ا" occurs 43542 times in Quran, Lam "ل" occurs 38191 times, Nun "ن" occurs 27270, Mim "م" used 26735 times and 5th Most Used Alphabet is Waw "و" which is used 24813 times in Quran.
Arabic alphabet contains only two more letters than the English alphabet but unlike English where "c" is sometimes pronounced like an "s" and sometimes like a "k" the Arabic letters are always pronounced in the same way. Arabic is written from right to left. There are 28 Letters/Alphabets in Arabic Language. But they change their shape according to their position in a word whether they appear at the beginning, middle or end of a word, or on their own. In Arabic short vowels are generally not written. The long vowels /a:/, /i:/ and /u:/ are represented by the letters 'alif, yā' and wāw respectively. Vowel diacritics, which are used to mark short vowels, and other special symbols appear only in the Quran. They sometimes also used in in classical poetry, other religious texts and complex texts to avoid ambiguity.
CLICK THE CHART IMAGE TO OPEN IN LIGHT BOX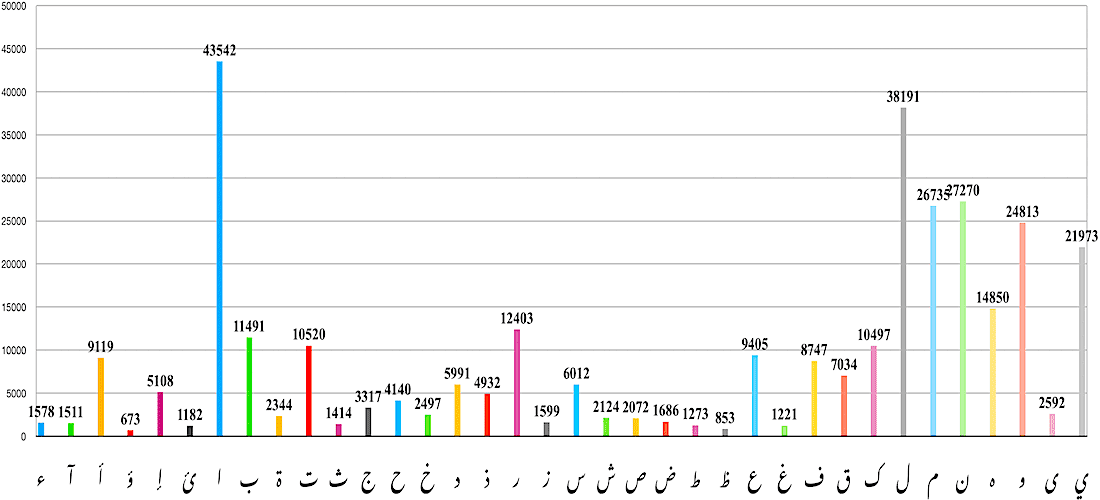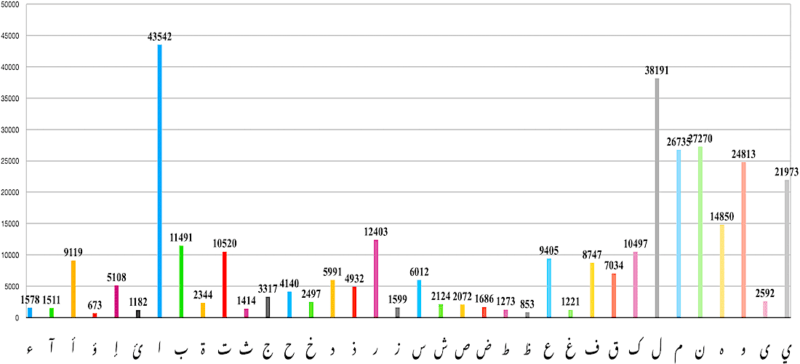 MYSTERY ABBREVIATED LETTERS/HURROF AL MUQATTAT
Their Usage And Percentage With That of Each other
More than 25% of the Quranic Surahs begin with specific abbreviated letters called Huroof-Al-Muqattaat. Literally, مقطعات means abbreviated or shortened. They are also known as openers/Fawatih فواتح as in many cases they form the opening verse of the respective Surah. The مقطعات are made up of 14 Arabic Alphabets/letters. Thus out of the 28 letters of the Arabic alphabet, precisely 50% appear as مقطعات, both singly or in combinations of 2, 3, 4 or 5 letters. There are 29 Surahs of Quran that state the abbreviated prefixes. الٓم in Surah Baqarah, Ale Imran, Ankabut, Rum, Luqman and Sajdah. الٓمٓصٓ in Surah Araf. الٓر in Surah Yunus, Hud, Yusuf, Ibrahim and Hijr. الٓمٓر in Surah Raad. كٓهيعٓصٓ in Surah Maryam. طه in Surah Taha. طسٓمٓ in Surah Shuara and Qasas. طسٓ in Surah Naml. يسٓ in Surah Yaseen. صٓ in Surah Sad. حمٓ in Surah Ghafir, Fussilat, Shura Zukhuuf, Dukhan, Jathiyah and Ahqaf. حمٓ عٓسٓقٓ in Surah Shura. قٓ in Surah Qaf and نٓ in Surah Qalam.
PLEASE DRAG THE HANDLE IN THE MIDDLE OF THE PICTURE TO SEE TWO CHARTS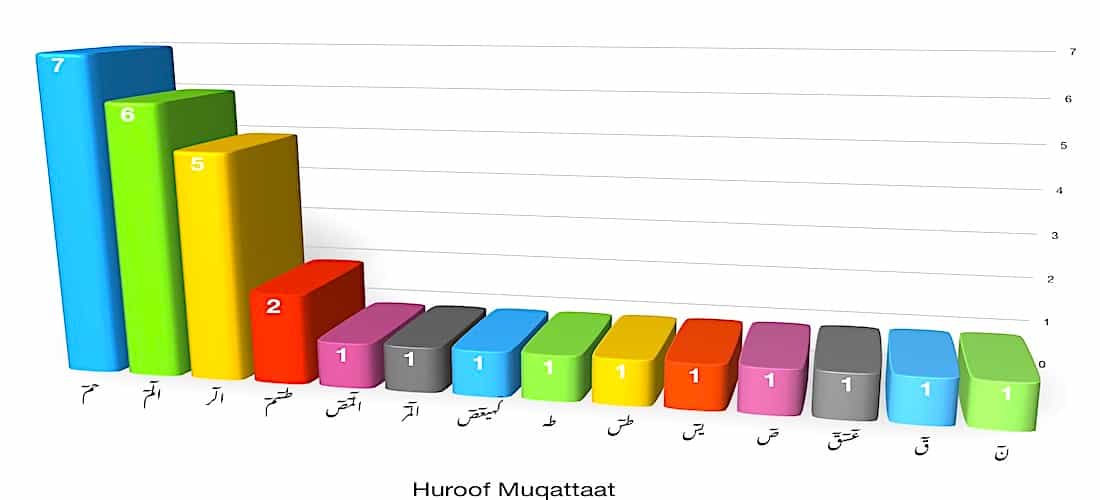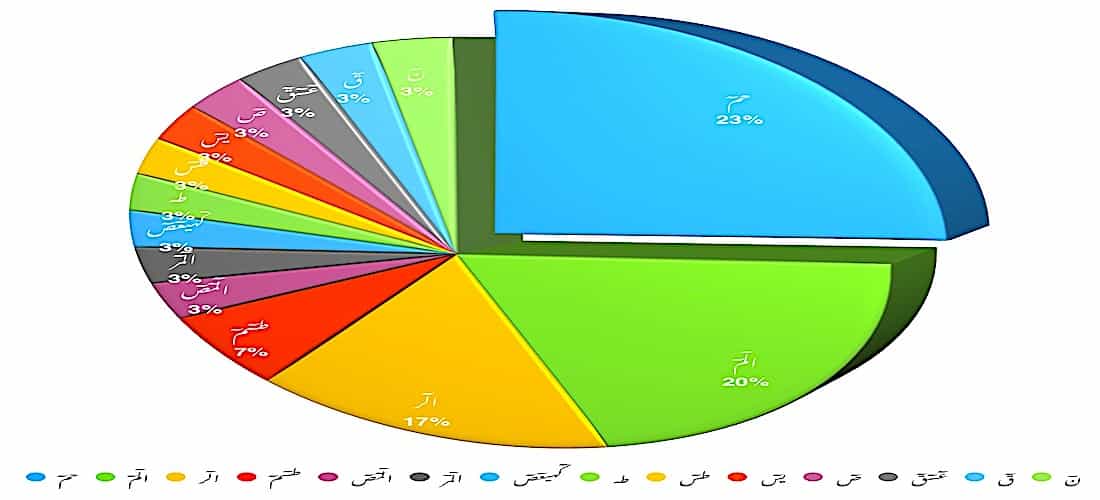 TOP TEN MOST USED WORDS IN QURAN
Their Frequency And Percentage With That of Total Words
PLEASE DRAG THE HANDLE IN THE MIDDLE OF THE PICTURE TO SEE TWO CHARTS
The working below of these top ten most repeated words is purely from statistical perspective and gives the exact occurrence of these words when they occur in Quran in their simplest form. For example God is mentioned as the proper name of ٱللَّه Allah 2699 times in Quran, but here you can see that it is mentioned as 2153 times. The reason is that, here all other forms which are combination of two or more words like "بِاللَّهِ" Or "وَاللَّهُ" are ignored. So simply if some one asks you how many times the name ٱللَّه is mentioned in Quran then the answer is 2699, but if someone ask you how many times the word ٱللَّه mentioned in Quran (in its simplest form in isolation) then the answer is 2153 times.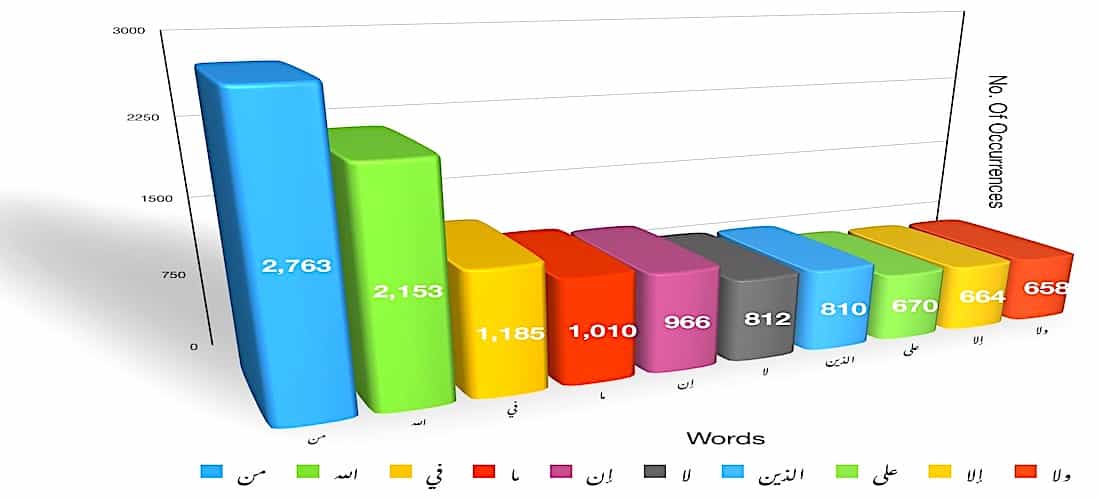 TOP FIVE MOST REPEATED VERSES IN A SINGLE SURAH
Their Frequency And Surah No. In Which They Revealed
PLEASE TOUCH THE RELATED DOTS TO SEE THE INFORMATION
TOP TEN MOST USED PHRASES IN QURAN
Their Frequency And Percentage With That of Total Phrases
PLEASE DRAG THE HANDLE IN THE MIDDLE OF THE PICTURE TO SEE TWO CHARTS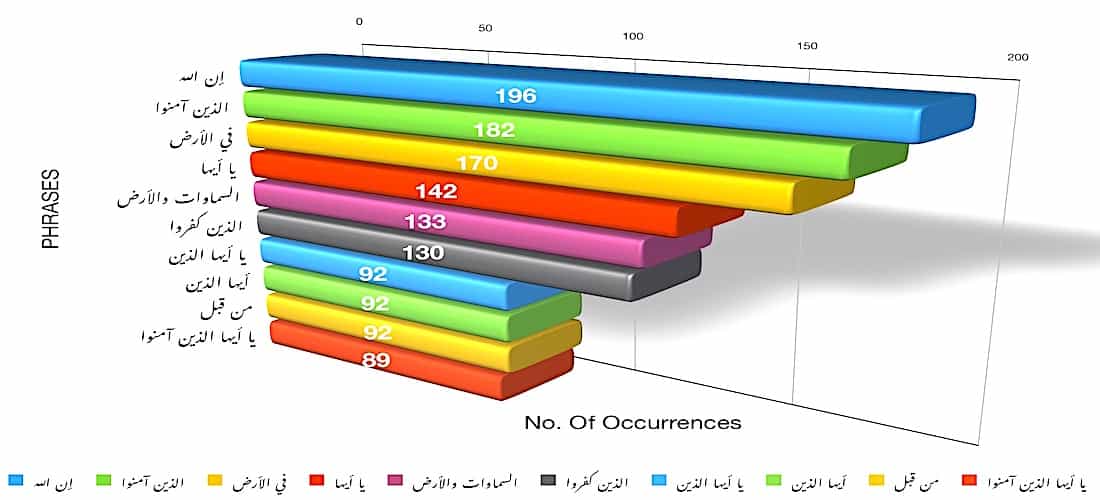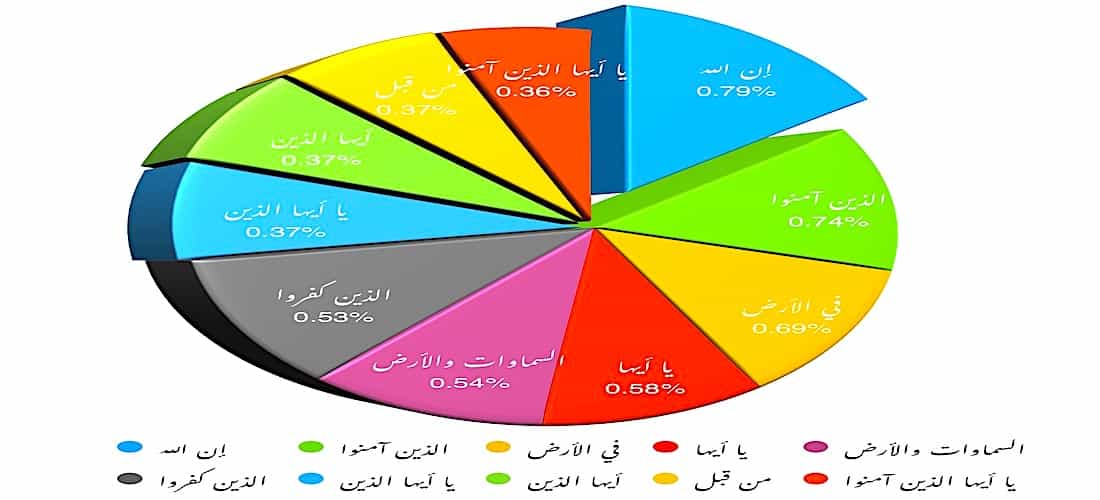 QURAN SURAH WISE TOTAL NUMBER OF VERSES, WORDS & LETTERS
On Mobile Devices Swipe Right & Left To See The Full Chart
| SURAH NAME | NO. OF VERSES | TOTAL WORDS | TOTAL LETTERS |
| --- | --- | --- | --- |
| Al-Fatihah | 7 | 29 | 143 |
| Al-Baqarah | 286 | 6,140 | 26,249 |
| Ale Imran | 200 | 3,501 | 14,985 |
| An Nisa | 176 | 3,763 | 16,332 |
| Al Maidah | 120 | 2,837 | 12,206 |
| Al Anam | 165 | 3,056 | 12,726 |
| Al Araf | 206 | 3,341 | 14,435 |
| Al Anfal | 75 | 1,242 | 5,387 |
| At Tawbah | 129 | 2,505 | 11,115 |
| Yunus | 109 | 1,839 | 7,589 |
| Hud | 123 | 1,946 | 7,817 |
| Yusuf | 111 | 1,795 | 7,307 |
| Ar Rad | 43 | 853 | 3,545 |
| Ibrahim | 52 | 830 | 3,539 |
| Al Hijr | 99 | 657 | 2,882 |
| An Nahl | 128 | 1,844 | 7,832 |
| Al Isra | 111 | 1,558 | 6,643 |
| Al Kahf | 110 | 1,583 | 6,552 |
| Maryam | 98 | 971 | 3,935 |
| Ta Ha | 135 | 1,353 | 5,399 |
| Al Anbiya | 112 | 1,174 | 5,094 |
| Al Hajj | 78 | 1,279 | 5,314 |
| Al Muminun | 118 | 1,052 | 4,483 |
| An Noor | 64 | 1,319 | 5,754 |
| Al Furqan | 77 | 896 | 3,878 |
| Ash Shuara | 227 | 1,320 | 5,630 |
| An Naml | 93 | 1,159 | 4,790 |
| Al Qasas | 88 | 1,438 | 5,930 |
| Al Ankabut | 69 | 978 | 4,317 |
| Ar Rum | 60 | 817 | 3,472 |
| Luqman | 34 | 550 | 2,171 |
| As Sajdah | 30 | 372 | 1,563 |
| Al Ahzab | 73 | 1,303 | 5,788 |
| Saba | 54 | 884 | 3,594 |
| Fatir | 45 | 778 | 3,238 |
| Yasin | 83 | 730 | 3,068 |
| As Saffaat | 182 | 865 | 3,899 |
| Sad | 88 | 735 | 3,065 |
| Az Zumar | 75 | 1,177 | 4,869 |
| Ghafir | 85 | 1,226 | 5,108 |
| Fussilat | 54 | 794 | 3,365 |
| Ash Shura | 53 | 860 | 3,522 |
| Az Zukhruf | 89 | 836 | 3,609 |
| Ad Dukhan | 59 | 346 | 1,474 |
| Al Jathiyah | 37 | 488 | 2,085 |
| Al Ahqaf | 35 | 645 | 2,667 |
| Muhammad | 38 | 542 | 2,423 |
| Al Fath | 29 | 560 | 2,510 |
| Al Hujurat | 18 | 353 | 1,533 |
| SURAH NAME | NO. OF VERSES | TOTAL WORDS | TOTAL LETTERS |
| --- | --- | --- | --- |
| Qaf | 45 | 373 | 1,507 |
| Ad Dhariyat | 60 | 360 | 1,546 |
| At Tur | 49 | 312 | 1,324 |
| An Najm | 62 | 360 | 1,433 |
| Al Qamar | 55 | 342 | 1,469 |
| Ar Rahman | 78 | 352 | 1,647 |
| Al Waqiah | 96 | 379 | 1,756 |
| Al Hadid | 29 | 575 | 2,545 |
| Al Mujadilah | 22 | 475 | 2,046 |
| Al Hashr | 24 | 447 | 1,970 |
| Al Mumtahanah | 13 | 352 | 1,560 |
| As Saff | 14 | 226 | 966 |
| Al Jumuah | 11 | 177 | 768 |
| Al Munafiqun | 11 | 181 | 801 |
| At Taghabun | 18 | 242 | 1,091 |
| At Talaq | 12 | 289 | 1,203 |
| At Tahrim | 12 | 254 | 1,105 |
| Al Mulk | 30 | 333 | 1,347 |
| Al Qalam | 52 | 301 | 1,289 |
| Al Haqqah | 52 | 260 | 1,133 |
| Al Maarij | 44 | 217 | 971 |
| Nuh | 28 | 227 | 965 |
| Al Jinn | 28 | 286 | 1,109 |
| Al Muzzammil | 20 | 200 | 854 |
| Al Muddathir | 56 | 256 | 1,035 |
| Al Qiyamah | 40 | 164 | 676 |
| Al Insan | 31 | 243 | 1,087 |
| Al Mursalat | 50 | 181 | 841 |
| An Naba | 40 | 174 | 796 |
| An Naziat | 46 | 179 | 785 |
| Abasa | 42 | 133 | 552 |
| At Takwir | 29 | 104 | 435 |
| Al Infitar | 19 | 81 | 333 |
| Al Mutaffifeen | 36 | 169 | 750 |
| Al Inshiqaq | 25 | 108 | 445 |
| Al Burooj | 22 | 109 | 469 |
| At Tariq | 17 | 61 | 254 |
| Al Ala | 19 | 72 | 296 |
| Al Ghashiyah | 26 | 92 | 382 |
| Al Fajr | 30 | 139 | 584 |
| Al Balad | 20 | 82 | 342 |
| Ash Shams | 15 | 54 | 253 |
| Al Lail | 21 | 71 | 314 |
| Ad Dhuha | 11 | 40 | 165 |
| Al Inshirah | 8 | 27 | 102 |
| At Tin | 8 | 34 | 162 |
| Al Alaq | 19 | 72 | 288 |
| Al Qadr | 5 | 30 | 115 |
| Al Bayyinah | 8 | 94 | 404 |
| SURAH NAME | NO. OF VERSES | TOTAL WORDS | TOTAL LETTERS |
| --- | --- | --- | --- |
| Az Zilzal | 8 | 36 | 158 |
| Al Adiyat | 11 | 40 | 169 |
| Al Qariah | 11 | 36 | 160 |
| At Takathur | 8 | 28 | 123 |
| Al Asr | 3 | 14 | 73 |
| Al Humazah | 9 | 33 | 134 |
| Al Feel | 5 | 23 | 97 |
| Al Quraysh | 4 | 17 | 77 |
| Al Maun | 7 | 25 | 114 |
| Al Kawthar | 3 | 10 | 43 |
| Al Kafirun | 6 | 27 | 99 |
| An Nasr | 3 | 19 | 80 |
| Al Masad/Lahab | 5 | 23 | 81 |
| Al Ikhlas | 4 | 15 | 47 |
| Al Falaq | 5 | 23 | 73 |
| An Nas | 6 | 20 | 80 |