Brief introduction of Galaxies, MilkyWay. Types and Parts of Galaxy.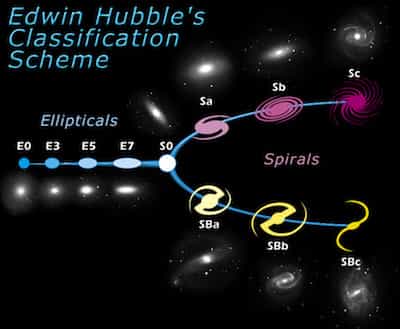 Now let me introduce you to different celestial bodies and phenomena happening in this
Universe
. I have already told you the concept of
Light year
and enormous
distances in the universe
in
part 16
.
What is a Galaxy?
Now as you know that our earth is a planet and our sun is a star which is one among billions of other stars in a galaxy we call MilkyWay. So Galaxies are clusters of stars. In which the number of stars ranges from less than ten million stars in Dwarf galaxies to a trillion stars in giant elliptical galaxies. More than 200 billion galaxies in the Observable universe. Most are 3300 to 330,000 Light years across. The universe is filled with only one atom per cubic meter, in other words, it is almost vacuum.
MikyWay
MilkyWay has a diameter of 100,000LY, Thickness of 1000LY with nearly 100billion to 400billion stars in which the oldest stars are almost 13.2billion years of age. Our Sun's distance to the core to the center of MilkyWay is 25,000LY and its rotational period around our galaxy is 225 million years.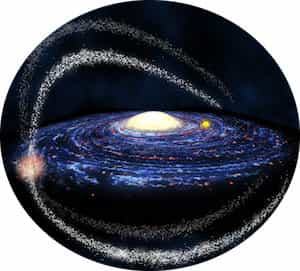 Parts & Types of Galaxies
We have also divided galaxies into different body parts like Nucleus Bulge in the center, Halo and then the Spiral Arms. From earth when we look at Sagittarius we are looking at the center of our galaxy. Milky way has some dwarf Galaxies bounded to it by its gravity like Sagittarius Dwarf Galaxy and Canis Major Dwarf Galaxy. They are Dwarf Elliptical galaxies. They contain about a billion stars and in the process of being consumed by Milky Way.
Agora deixe-me apresentar-lhe diferentes corpos celestes e fenômenos acontecendo neste Universo. Eu já lhe disse o conceito de ano-luz e enormes distâncias no universo na parte 16.
Agora, como você sabe que a nossa terra é um planeta e nosso sol é uma estrela que é um entre bilhões de outras estrelas em uma galáxia que chamamos de MilkyWay. Então as galáxias são aglomerados de estrelas. Em que o número de estrelas varia de menos de dez milhões de estrelas em galáxias anãs a um trilhão de estrelas em gigantescas galáxias elípticas. Mais de 200 bilhões de galáxias no universo Observable. A maioria tem 3300 a 330.000 anos-luz de diâmetro. O universo é preenchido com apenas um átomo por metro cúbico, em outras palavras, é quase vácuo. MilkyWay tem um diâmetro de 100.000LY, espessura de 1000LY com quase 100 bilhões a 400 bilhões de estrelas em que as estrelas mais antigas têm quase 13,2 bilhões de anos de idade. A distância do nosso Sol até o centro do centro da Via Láctea é de 25.000 e seu período de rotação em torno de nossa galáxia é de 225 milhões de anos.
Também dividimos galáxias em diferentes partes do corpo, como Nucleus Bulge no centro, Halo e, em seguida, o Spiral Arms. Da Terra, quando olhamos para Sagitário, estamos olhando para o centro da nossa galáxia. A Via Láctea tem algumas Galáxias anãs limitadas a ela por sua gravidade como a Galáxia Anã de Sagitário e a Galáxia Anã de Canis Major. Eles são galáxias elípticas anãs. Eles contêm cerca de um bilhão de estrelas e estão sendo consumidos pela Via Láctea.