Distances in the universe: What is a Light year. We are looking into the Past and the stars you see may be dead.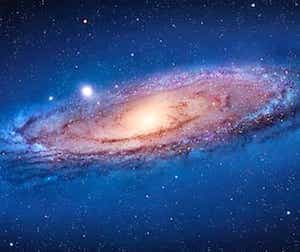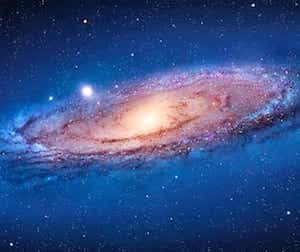 The distances in the
universe
are so big that you cannot measure in your normal terms. It can only be measured in terms of a light year which is the distance light travels in one year while the speed of light is 300,000 km /sec. This speed is so much that nothing can travel faster than light. In just one second lights travels 7.5 times around our
earth
. In a year it travels 9.5 trillion Km and is called a light year which is a distance of length, not time. We live in a
galaxy
which we named as Milky Way with a diameter of 100,000 light years, and a thickness of 1000 light years, with approx. 100-400 billion
stars
like our
sun
although the majority of them are bigger than our sun.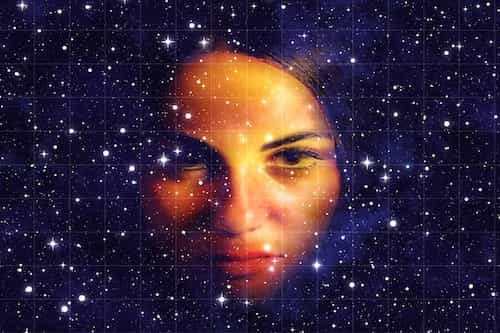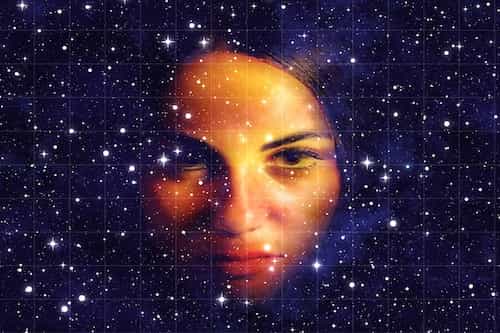 The nearest galaxy to milky way is Andromeda, a galaxy much like our own Milky Way. It is 2.2 million light years away from us. It means that with a speed of 300,000 km/sec it takes almost 2.2 million years for light or any other object to reach Andromeda the nearest neighborhood. The stars we see in the night
sky
are very far away from us, so far the
star
light we see has taken a long time to travel across
space
to reach our eyes. That means whenever we look out into the night and gaze at stars we are actually experiencing the past.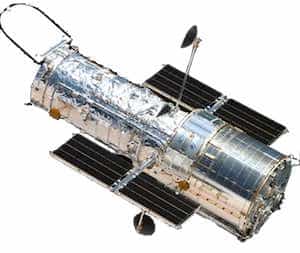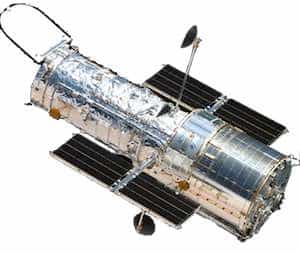 Specialized telescopes enable us to look towards very distant objects in the universe. There are some incredible images, one of which is the Hubble Ultra Deep Field. HUDF is an image of a small region of space, containing an estimated 10,000
galaxies
. Looking back approximately 13 billion years. In just one picture we are transported 13 billion years into the past, just 400 to 800 million years after the Big Bang, which is early in terms of the universe's history. Do you know that the stars you see in the sky may be dead? As they are billions of light years away from us and it will take billions of years for the light to reach earth, which means that the stars light which you see now is billion-year-old lighting. So they may be dead now. Every day almost 275-400 million stars die and nearly 400 million new stars are born only in our observable universe.
المسافات في الكون كبيرة جدا لدرجة أنه لا يمكنك قياسها بالقياسات العادية. يمكن قياسها فقط بالسنة الضوئية وهي المسافة التي يقطعها الضوء خلال سنة بينما سرعة الضوء هي 300,000 كم/ث. هذه سرعة كبيرة لدرجة أن لا شئ يستطيع السفر أسرع من الضوء. خلال ثانية واحدة يسافر الضوء حول الأرض سبع مرات ونصف. خلال سنة يسافر الضوء 9.5 تريليون كم وتسمى سنة ضوئية لأنها تعبر عن قياس مسافة وليس زمن. نعيش في مجرة تدعى الدرب اللبني بقطر يساوي 100,000 سنة ضوئية, و سمك يساوي 1000 سنة ضوئية. يوجد فيها تقريباً من 100 إلى 400 مليار نجم كشمسنا على الرغم من أن معظمهم أكبر من شمسنا.
أقرب مجرة إلى مجرة الدرب اللبني هي أندروميدا, وهي تشبه مجرتنا إلى حد كبير. إنها تبعد عنا 2.2 مليون سنة ضوئية. هذا يعني أنه بسرعة 300,000 كم/ث يستغرق الضوء أو أي شئ آخر حوالي 2.2 مليون سنة ليصل إلى أندروميدا أقرب جيراننا. النجوم التي نراها في السماء ليلاً بعيدة جدا عنا, بعيدة لدرجة أن ضوء النجم إستغرق وقتاً طويلاً ليسافر عبرالفضاء ويصل إلى أعيننا. هذا يعني أننا كلما نظرنا إلى السماء ليلاً ورأينا النجوم, نحن فعلياً نختبر الماضي.
التلسكوبات المتخصصة تمكننا من النظر تجاه الأشياء البعيدة جداً في الفضاء. هنالك بعض الصور المذهلة, واحد منها هو مجال هابل شديد العمق. صورة HUDF هي صورة لجزء صغير من الفضاء, تحتوي على ما يقدر ب 10,000 مجرة. تعود إلى ما قبل 13 مليار سنة في الماضي. في صورة واحدة ننتقل 13 مليار عام في الماضي, بعد 400 إلى 800 مليون سنة بعد الإنفجار العظيم, والذي يعتبر مبكراً بالنسبة إلى عمر الكون.هل تعلم أن النجوم التي نراها في السماء ربما تكون ميتة؟ لأنهم على بعد ملايين السنين الضوئية منا وسيستغرق الضوء ملايين السنين الضوئية ليصل إلى الأرض, مما يعني أن ضوء النجوم الذي تراه الآن هو ضوء بعمر ملايين السنين لذلك يمكن أن يكونوا ميتيين الآن. كل يومي موت حوالي 275 – 400 مليون نجم ويلد حوالي 400 مليون نجم جديد في الكون الملحوظ فقط.
As distâncias no universo são tão grandes que você não pode medir em seus termos normais. Ele só pode ser medido em termos de um ano-luz, que é a distância que a luz percorre em um ano, enquanto a velocidade da luz é de 300.000 km / s. Essa velocidade é tão grande que nada pode viajar mais rápido que a luz. Em apenas um segundo, as luzes viajam 7,5 vezes ao redor da Terra. Em um ano, ele percorre 9,5 trilhões de quilômetros e é chamado de ano-luz, que é uma distância do comprimento, não do tempo. Vivemos em uma galáxia que chamamos de Via Láctea, com um diâmetro de 100.000 anos-luz e uma espessura de 1.000 anos-luz, com aprox. 100-400 bilhões de estrelas como o nosso sol, embora a maioria seja maior que o nosso sol.
A galáxia mais próxima da Via Láctea é a Andrômeda, uma galáxia muito parecida com a nossa Via Láctea. Está a 2,2 milhões de anos-luz de nós. Isso significa que, com uma velocidade de 300.000 km / s, leva quase 2,2 milhões de anos para que a luz ou qualquer outro objeto alcance o bairro mais próximo de Andrômeda. As estrelas que vemos no céu noturno estão muito longe de nós, até agora a luz da estrela que vemos levou muito tempo para viajar através do espaço para alcançar nossos olhos. Isso significa que sempre que olhamos para a noite e contemplamos as estrelas, estamos realmente experienciando o passado.
Telescópios especializados nos permitem olhar para objetos muito distantes no universo. Existem algumas imagens incríveis, uma das quais é o Hubble Ultra Deep Field. HUDF é uma imagem de uma pequena região do espaço, contendo cerca de 10.000 galáxias. Olhando para trás aproximadamente 13 bilhões de anos. Em apenas uma foto somos transportados 13 bilhões de anos para o passado, apenas 400 a 800 milhões de anos após o Big Bang, o que é cedo em termos da história do universo. Você sabe que as estrelas que você vê no céu podem estar mortas? Como estão a bilhões de anos-luz de nós e levará bilhões de anos para que a luz chegue à Terra, o que significa que a luz das estrelas que você vê agora é de bilhões de anos de luz. Então eles podem estar mortos agora. Todos os dias morrem quase 275 a 400 milhões de estrelas e quase 400 milhões de novas estrelas nascem apenas em nosso universo observável.
Las distancias en el universo son tan grandes que no puedes medirlas en tus términos normales. Solo se puede medir en términos de un año luz, que es la distancia que la luz viaja en un año, mientras que la velocidad de la luz es de 300,000 km / seg. Esta velocidad es tal que nada puede viajar más rápido que la luz. En solo un segundo, las luces viajan 7,5 veces alrededor de nuestra tierra. En un año viaja 9.5 billones de kilómetros y se llama año luz, que es una distancia de longitud, no de tiempo. Vivimos en una galaxia que llamamos Vía Láctea con un diámetro de 100.000 años luz y un espesor de 1000 años luz, con aprox. 100-400 millones de estrellas como nuestro sol, aunque la mayoría de ellas son más grandes que nuestro sol.
La galaxia más cercana a la vía láctea es Andrómeda, una galaxia muy parecida a nuestra propia Vía Láctea. Estamos a 2,2 millones de años luz de nosotros. Significa que con una velocidad de 300,000 km / s, la luz o cualquier otro objeto tarda casi 2.2 millones de años en llegar a Andrómeda, el vecindario más cercano. Las estrellas que vemos en el cielo nocturno están muy lejos de nosotros, hasta ahora la luz de las estrellas que vemos ha tardado mucho en viajar a través del espacio para llegar a nuestros ojos. Eso significa que cada vez que miramos hacia la noche y miramos las estrellas, en realidad estamos experimentando el pasado.
Los telescopios especializados nos permiten mirar hacia objetos muy distantes en el universo. Hay algunas imágenes increíbles, una de las cuales es el campo Ultra Deep de Hubble. HUDF es una imagen de una pequeña región del espacio, que contiene un estimado de 10.000 galaxias. Mirando hacia atrás aproximadamente 13 mil millones de años. En una sola imagen, somos transportados 13 mil millones de años en el pasado, solo 400 a 800 millones de años después del Big Bang, que es temprano en términos de la historia del universo. ¿Sabes que las estrellas que ves en el cielo pueden estar muertas? Como están a miles de millones de años luz de nosotros y la luz tardará miles de millones de años en llegar a la Tierra, lo que significa que la luz de las estrellas que ves ahora es una iluminación de mil millones de años. Entonces ellos pueden estar muertos ahora. Todos los días casi 275-400 millones de estrellas mueren y casi 400 millones de nuevas estrellas nacen solo en nuestro universo observable.
کائنات کے بیچ اتنا فاصلہ ہے کہ آپ اسے اپنی عام اصطلاح میں ناپ نہیں سکتے۔ یہ صرف روشنی کے سال کی اصطلاح میں ناپا جا سکتا ہے یعنی کہ ایک سال کے دورانیے میں روشنی کا طےکردہ سفر جبکہ روشنی کی رفتار 3 لاکھ کلومیٹر فی سیکنڈ ہے۔ یہ رفتار اتنی ذیادہ ہے کہ روشنی سے ذیادہ تیز سفر کوئی چیز نہیں کر سکتی۔ صرف ایک سیکنڈ میں ساڑھے .7.57 مرتبہ روشنی زمین کے گرد چکر لگا سکتی ہے۔ ایک سال کی مدت میں یہ ساڑھے 9 کھرب کلومیٹر سفر طے کرتی ہےاور اسے روشنی کے سال کا نام دیا جاتا ہے جو کہ لمبائی کا فاصلہ ہے نہ کہ وقت کا۔ ہم جس کہکشاں میں رہتے ہیں اسے ہم نے ملکی وے کا نام دیا ہےاور اس کا ڈایا میٹر ایک لاکھ نوری سال ہےاورایک ھزار نوری سال کی دبازت کے برابر جو کہ قریباً 100 ارب سے 400 ارب ستارو ں کے ساتھ ہے جیسے کہ ہمارا سورج ، حالانکہ ان میں سے ذیادہ تر ہمارے سورج سے بڑے ہیں ۔ ھماری کہکشاں کے سب سے قریب کی کہکشاں اینڈرومیڈا ہے ۔ یہ وہ کہکشاں ہے جو کافی حد تک ہماری کہکشاں جیسی ہے۔ یہ ہم سے 2 اعشاریہ 2 ملین نوری سال کی فاصلے پر ہے ۔ اس کا مطلب ہے کہ اینڈرومیڈا کے قریب ترین علاقے تک روشنی یا کسی اور چیز کو پہنچنے کے لئے 3 لاکھ کلومیٹر فی سیکنڈ کی رفتار سے سفر کرنے پر 22 لاکھ سال لگیں گے۔ آسمان میں رات کو جو ستارے ہم دیکھتے ہیں وہ ہم سے بہت دور ہیں ۔ اتنی دور کے انکی روشنی جو ھم دیکھتے ھیں اس روشنی نے خلاء میں بہت دیر تک ہماری آنکھوں تک پہچنے کے لئے سفر کیا ہے۔ اس کا مطلب ہے کہ جب بھی ہم رات میں ستاروں کو دیکھتے ہیں ہم درحقیقت ماضی کو دیکھ رہے ہوتے ہیں ۔
خاص دوربینوں کے ذریعے ہم کائنات میں مختلف چیزوں کو دیکھ سکتے ہیں ۔ وہاں پر کچھ حیرت کن مناظر ہیں جن میں سے ایک کا نام ہبل الٹرا فیلڈ ہے۔ ایچ یو ڈی ایف خلاء کے ایک چھوٹے سے خطے کا منظر ہے جو تقریباً 10ہزار کہکشاؤں پر مشتمل ہے۔ اندازہً 13 ارب سال پیچھے ماضی میں دیکھنا۔ صرف ایک ہی تصویر میں ہم 13 ارب سال پیچھے ماضی میں چلے جاتے ھیں جو کہ بِگ بینگ کے بعد کے 400 سے 800 سال کا دور ہے اور یہ کائنات کی تاریخ میں بہت شروعات کا وقت ہے۔ کیا آپ جانتے ہیں کہ اس بات کا امکان ہے کہ آسمان کے ستارے فنا ہو گئے ہوں کیونکہ وہ ہم سے اربوں کھربوں نوری سالوں کے فاصلے پر ہیں اور زمین تک روشنی کو پہنچنے کے لئے کئی بلین یعنی اربوں کھربوں سال لگ جاتے ہیں ۔ اس کا مطلب ہے کہ جو ستاروں کی روشنی ابھی ہم دیکھتے ہیں وہ کئی ارب سال پرانی ہے۔ تو ہو سکتا ہے کہ وہ اب ختم ہو چکے ہوں ۔محض دکھائی دینے والی کائنات میں ہر روز تقریباً 27 کروڑ سے 40 کروڑ ستارے فنا ہوتے ہیں اور قریباً 40 کروڑ نئے ستارےوجود میں آتے ہیں۔