Brief Summary of Arguments for the existence of God-2: Contingency argument or the causal argument/First Cause Argument.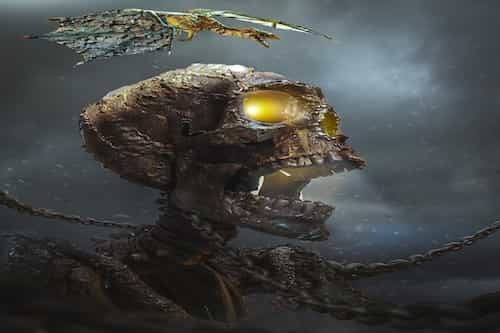 In
part 6
and
part 9
of this program I started this topic and gave you a summary of arguments for the Non existence and existence of God. Now lets finalize all this one by one.
Contingency argument
Starting with the Contingency argument that all beings are contingent i.e subject to chance and dependent, meaning that it is possible for them not to exist. If everything can possibly not exist, there must have been a time when nothing existed. As things exist now, there must exist a being with necessary existence, regarded as God. In other words, if everything could die, then, given enough time, everything would eventually die.
But in that case nothing could start up again. We would have universal death. For a being that has ceased to exist, cannot cause itself or anything else, to begin to exist again. But because this universal death has not happened and things do exist, there must be a being that is eternal. If the universe has an explanation of its existence than that explanation is an external transcendent personal cause. Because the cause of the universe must be greater than the universe itself. Think of the universe all of space and time so the cause of the universe must be beyond space and time, therefore it cannot be physical or material. Now there are only two kinds of things that could possibly fit that description, either an abstract object or else an intelligent being. But abstract objects can't cause anything so it must be an intelligent being i.e God.
The whole universe is a vast, interlocking chain of things that come into existence. We would not be here without billions of causes from the Big Bang, through the forming of stars and galaxies, and the evolution of the life on planet earth, to the marriages of our ancestors.
To understand more consider you need a DVD for your DVD Player. You ask your friend whether he has it. He says no, he has to get it from his father. What if his father says he has to get it from his friend, who in turn say that he has to get it from his son, and the process go on until infinity. No one actually has the Dvd.

There has to be a First cause
In that case, you will never get it. However long or short the chain of borrowers may be, you will get it only if someone actually has it and does not have to borrow it. The existence of all creation is like this. If there is no first cause i.e no being who has existence by his own nature, and does not have to borrow it from someone else, then this mere existence of all that exist can never be passed down the chain to others and no one will ever get it.
في الجزئين السادس والتاسع من هذا البرنامج بدأت هذا الموضوع، وقدمت لكم مُلخصًا لحُجج القائلين بعدم وجود الله. والأن أضع اللمسات الأخيرة على كل هذا حُجةً تلو الأخرى. بدءًا من حجة المُصادفة، والتي تقول بأنّ جميع الكائنات هي نتيجةٌ للصدفة والاعتماد، وهذا يعني أنّه من المُمكن في لحظةٍ ما ألا توجد تلك الكائنات. إذا كان وجود كل شيء خاضع للاحتمالات، فإذًا يجب أن يكون هناك وقتٌ حيث لم يكن هناك شيء موجود. ولكن الأمور موجودة الآن، فيجب أن يكون هناك كائنٌ وجوده ضروريّ، وهذا الكائن هو الله. وبعبارةٍ أخرى، إذا كان من المُمكن أن يموت كل شيء ، فبإعطاء الكائنات الوقت الكافي، فسوف يموتُ كل شيءٍ في نهاية المَطاف.
ولكن حينها لا يمكن أن يُخلق أيّ شيء مرةً أخرى. سيكون لدينا موت شاملٌ. لأنّ ذلك الكائن الأعلى الذي لم يَعد موجودًا، لا يُمكن أن يخلق نفسه أو أي شيء أخر مرةً أخرى. ولكن لأنّ ذلك الموتُ الشامل لم يحدث، والكائناتُ موجودةٌ بالفعل، يجب أن يكون هناك كائنٌ أبديّ. يجب أن يكون للكون تفسيرٌ لوجودِه غير وجودٍ شخصيةٍ خارجيةٍ متعاليةٍ. لأنّ مُسببَ الكونِ يجب أن يكون أكبرَ من الكون نفسه. فكّر في الكون المُكونِ من الزمان والمكان؛ فحينها يجب أن يكون مُسببُ الكون فوق الزمان والمكان؛ وبالتالي فلا يمكن أن يكون أمرًا ماديًا أو فيزيائيًا. الأن هناك نوعان فقط من الأشياء التي تُناسب هذا الوصف، إما كائٌن مجردٌ أو كائنٌ ذكيٌّ أخر. ولكنّ الكائنات المُجردة لا يُمكن أن تخلق أي شيء، لذلك يجب أن يكون المُسببُ ذكيًا: مثل الله.
الكون بأكمله سلسلةٌ واسعةٌ ومتشابكةٌ من الأشياء التي تأتي إلى حيز الوجود. لن نكون هنا دون ملياراتٍ من الأسباب بدءًا من الانفجار الكبير، تشكل النجوم والمجرات، وتطور الحياة على كوكب الأرض، وصولًا لزواج أجدادنا.
لكي نفهمَ أكثر نحتاجُ إلى وضع قرص(دي في دي) في مُشغل أقراص (دي في دي ) الخاص بك. تسأل صديقك ما إذا كان لديه واحد. يُجيبك لا، وأنّه يجب عليه أن يأخذه من والده. فماذا لو قال له والده أنّه يجب أنْ يحصلَ عليه من صديقه؟!، والذي بدوره سيقول أنّه يجب أن يحصل عليه من ابنه؟!، وتستمر العملية حتى اللانهاية. لا أحد لديه (دي في دي) حقيقةً. وفي هذه الحالة، فإنك لن تحصل عليه. ولكن هناك سلسلة طويلةٌ أو قصيرةٌ من المُقترضين قد حصلت عليه، وسوف تحصل عليه إلا إذا كان شخصٌ ما لديه واحد ولن يُقرضه. وجودُ كل المخلوقاتٍ هو أمرٌ مُشابهٌ لهذا. إذا لم يكن هناك خالقٌ أول، أي لا وجود له بحكم طبيعته، وليس عليه أن يَقترض الوجود من شخصٍ أخر، حينئذٍ فإنّ مُجرد وجودِ كل ما هو مخلوق، لا يمكن تمريره إلى سلسلةٍ من الأخرين ولن يحصل عليه أحدٌ أبدًا.
Na parte 6 e 9 deste programa, iniciei este tópico e apresentei um resumo dos argumentos para a inexistência e existência de Deus. Agora vamos finalizar tudo isso um por um. Começando com o argumento da Contingência de que todos os seres são contingentes, isto é, sujeitos ao acaso e dependentes, o que significa que é possível que eles não existam. Se tudo pode possivelmente não existir, deve ter havido um tempo em que nada existia. Como as coisas existem agora, deve existir um ser com existência necessária, considerado como Deus. Em outras palavras, se tudo pudesse morrer, então, com tempo suficiente, tudo acabaria morrendo.
Mas, nesse caso, nada poderia recomeçar. Nós teríamos a morte universal. Para um ser que deixou de existir, não pode causar a si mesmo ou a qualquer outra coisa, começar a existir novamente. Mas como essa morte universal não aconteceu e as coisas existem, deve haver um ser que seja eterno. Se o universo tem uma explicação de sua existência, essa explicação é uma causa pessoal transcendente externa. Porque a causa do universo deve ser maior que o próprio universo. Pense no universo todo espaço e tempo para que a causa do universo esteja além do espaço e do tempo; portanto, não pode ser física ou material. Agora, existem apenas dois tipos de coisas que podem se encaixar nessa descrição, seja um objeto abstrato ou um ser inteligente. Mas objetos abstratos não podem causar nada, então deve ser um ser inteligente, por exemplo, Deus.
Todo o universo é uma cadeia vasta e entrelaçada de coisas que surgem. Nós não estaríamos aqui sem bilhões de causas do Big Bang, através da formação de estrelas e galáxias, e a evolução da vida no planeta Terra, para os casamentos de nossos ancestrais.
Para entender mais, você precisa de um DVD para o seu DVD Player. Você pergunta ao seu amigo se ele tem. Ele diz que não, ele tem que conseguir de seu pai. E se o pai disser que tem que pegar do amigo, que por sua vez diz que tem que tirar do filho, e o processo continua até o infinito. Ninguém realmente tem o DVD. Nesse caso, você nunca conseguirá. Por mais longa ou curta que a cadeia de tomadores de empréstimos possa estar, você a obterá somente se alguém realmente a tiver e não tiver que pedir emprestada. A existência de toda a criação é assim. Se não há primeira causa, isto é, nenhum ser que tenha existência por sua própria natureza, e não tenha que emprestá-la de outra pessoa, então esta mera existência de tudo que existe nunca pode ser passada para outros e ninguém nunca pegue.
En la parte 6 y 9 de este programa comencé este tema y le di un resumen de argumentos para la No existencia y existencia de Dios. Ahora permitamos finalizar todo esto uno por uno. Comenzando con el argumento de Contingencia de que todos los seres son contingentes, es decir, sujetos a la posibilidad y dependientes, lo que significa que es posible que no existan. Si todo posiblemente no puede existir, debe haber habido un momento en que no existía nada. Como las cosas existen ahora, debe existir un ser con existencia necesaria, considerado como Dios. En otras palabras, si todo podía morir, entonces, dado el tiempo suficiente, todo eventualmente moriría.
Pero en ese caso, nada podría comenzar de nuevo. Tendríamos la muerte universal. Para un ser que ha dejado de existir, no puede hacerse ni a sí mismo ni a nada más, para comenzar a existir nuevamente. Pero debido a que esta muerte universal no ha sucedido y las cosas existen, debe haber un ser que sea eterno. Si el universo tiene una explicación de su existencia, esa explicación es una causa personal externa y trascendente. Porque la causa del universo debe ser mayor que el universo mismo. Piensa en el universo, todo el espacio y el tiempo, de modo que la causa del universo debe estar más allá del espacio y del tiempo, por lo tanto, no puede ser físico o material. Ahora bien, solo hay dos tipos de cosas que podrían ajustarse a esa descripción, ya sea un objeto abstracto o un ser inteligente. Pero los objetos abstractos no pueden causar nada, entonces debe ser un ser inteligente, es decir, Dios.
Todo el universo es una vasta cadena de cosas entrelazadas que entran en existencia. No estaríamos aquí sin miles de millones de causas del Big Bang, a través de la formación de estrellas y galaxias, y la evolución de la vida en el planeta tierra, a los matrimonios de nuestros antepasados.
Para entender más, considere que necesita un DVD para su reproductor de DVD. Le preguntas a tu amigo si lo tiene. Él dice que no, que tiene que obtenerlo de su padre. ¿Qué pasa si su padre dice que tiene que obtenerlo de su amigo, que a su vez dice que tiene que obtenerlo de su hijo, y el proceso continúa hasta el infinito. Nadie tiene realmente el Dvd. En ese caso, nunca lo conseguirás. Por muy larga o corta que sea la cadena de prestatarios, la obtendrá solo si alguien la tiene y no tiene que pedirla prestada. La existencia de toda la creación es así. Si no hay una primera causa, es decir, ningún ser que tenga existencia por su propia naturaleza y no tenga que pedirla prestada a otra persona, entonces esta mera existencia de todo lo que existe nunca podrá transmitirse a otros y nadie lo hará jamás. Consíguelo.
اس پروگرام کے 6 اور 9 حصے میں میں نے اس موضوع کا آغاز کیا تھا اور آپکو خدا کے وجود اور غیر وجود پر دلائل کا ایک خلا صہ دیا تھا۔ آئیے اب ایک ایک کر کے اس کا اختتام کریں ۔ کنٹنجنسی دلیل سے آغاز کرتے ہوئے کہ تمام چیزیں غیر یقینی ہیں یعنی، مواقع پر انحصار کرنے والے یعنی ممکن ہے کہ ان کا وجود نہ ہو۔ اگر ہر اِک شے کے وجود کا امکان نہ ہو تو پھر ایسے ادوار ہوں گے جب کسی شے کا وجود نہ ہو۔ اب کیونکہ چیزیں وجود میں ھیں تو ضرور کوئ ایسی ذات ھوگی جسکا وجود لازمی ہے یعنی کہ خدا۔ دوسرے الفاظ میں اگر ہر چیز فانی ہے تو اتنے وقت میں ہر شے کا آخر کار خاتمہ ہو سکتا تھا۔
لیکن اس طرح دوبارہ سے کسی چیز کا آغاز نہیں ہو سکتا تھا۔ ہماری موت عالمگیر ہوتی۔ اس جاندار کے لئے جسکی جان جا چکی ہو وہ نہ خود کے لئے کچھ کر سکتا ہے نہ کسی اور کے لئے، وہ دوبارہ سے زندگی حاصل نہیں کر سکتا۔ لیکن کیونکہ ایسی عالمگیر موت نہیں ھوئ اور چیزیں وجود رکھتی ھیں تو لازمی کوئ ایسی شے ھوگی جو ابدی ھو۔ اگر کائنات کے پاس ا س کے وجود کی وضاحت ھے تو یہ وضاحت ھر حال میں ایک باہری غیر معمولی ذا تی سبب ہے۔ کیونکہ کائنات کا سبب کائنات سے ذیادہ عظیم ہو گا۔ کائنات کو تمام مکان اور وقت کے ساتھ لیجئے لہٰذا کائنات کی وجہ وقت اور مکان سے بڑھ کر ہوگی۔ اس لئے یہ جسمانی یا مادی نہیں ہو سکتی۔ اب اس صورتحال میں محض دو طرح کی چیزیں چل سکتی ہیں یا تو کوئی خیالی یا پھر کوئی ذہین ذات ہو گی ۔ لیکن خیالی اشیاء کچھ کر نہیں سکتیں تو یہ کو ئی ذہین وجود ہی ہو گا یعنی کہ خدا۔
تمام کائنات ایک وسیع اور زنجیر کی طرح ایک دوسرے سے بُنی ہوئی چیزوں کے طور پر وجود میں آئی ہے۔ ہم ان لاکھوں جوہات کے بغیر یہاں نہ ہوتےجو بگ بینگ سے لے کر ستاروں اور کہکشاں کے بننے، اور سیارہِ زمین پر زندگی کے ارتقا سے لے کر ہمارے آباؤ اجداد کی شادیوں تک وقوع پزیر ھوئے۔
اسے بہتر طور پر سمجھنے کے لئے تصور کیجئے کہ آپ کو اپنے ڈی وی ڈی پلیئر کے لئے ایک ڈی وی ڈی چاہئے ۔اور اگر آپ اپنے دوست سے پوچھیں کہ کیا اس کے پاس یہ ہے اور وہ کہے گا کہ نہیں ۔ مجھے یہ میرے والد سے لینا پڑے گا۔ سوچیں اگر اس کا و الد یہ کہے کہ اسے یہ اس کے دوست سے لینا ہو گا جو جواب میں کہے کہ اسے یہ اس کے بیٹے سے لینا پڑے گا اور یہ عمل لامحدود طور پر چلتا رہے۔ درحقیقت کسی کے پاس ڈی وی ڈی نہ ہو۔ اس صور ت میں یہ آپ کو کبھی نہیں ملے گی۔ تاہم ادھار لینے والوں کی زنجیر چاہے کتنی چھوٹی یا بڑی ہو ، آپ کو یہ تبھی ملے گی اگر یہ درحقیقت کسی کے پاس ہو اور اسے یہ کسی سے لینی نہ پڑے۔ تمام خلقت کا وجود اسی طرح ہے۔ اگر پہلے سے کوئی سبب نہیں ہوگا یعنی کہ کوئی بھی ایسی جان نہیں جس کا خود سے کوئی وجود ہو اور اسے کسی سے لینا نہ پڑے تو تما م زندگیوں کے وجود کا یہ سرچشمہ کبھی اس زنجیر میں دوسروں کو منتقل نہ ہوگا اور اسے کوئی حاصل نہیں کر پائے گا۔