This Universe is not perfect. This universe is one among others your Lord has created.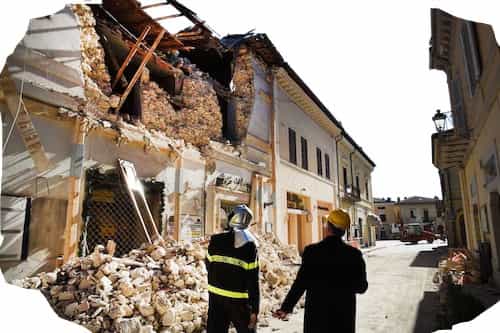 O Mankind no disaster, disease,
affliction
and
calamity
strikes on the
earth
or within yourselves, but is in a book before your Lord bring it into existence. And whatever misfortune affliction befalls you, it is because of what your hands have earned. And you cannot escape in the earth and you do not have, besides
God
, any protector or helper.
If there is an intelligent creator, than that must be shown through His creation
O mankind although your Lord has made this world a trial and this universe is not a perfect place even than its not only the material world and its cause and effects that are responsible for all the events, there is also something else. Let me here also respond to the question of skeptics when they say that if there is an intelligent creator, than that must be shown through His creation. They say the universe we see around ourselves is not perfect. As it took almost 15 billion years to arrive at this universe we see around us. Than most places in the universe, more than 99% would kill life instantly. They say star formation is completely inefficient as only 3% of the gas being used for this. Most planet orbits are unstable. They further say that the universe we see around ourselves is not perfect as on Earth 99 % of all life that has ever lived, is now extinct. Than it took almost 3.5 billion years to get an intelligent life on earth through various trials errors and accidents, than there are earthquakes floods diseases and birth defects.
This universe is one among others your Lord has created
So from their point of view this is not an efficient plan or design. The answer is that this universe is one among others your Lord has created. Others are not like this. And for its perfectness your Lord already told you in His revelations and scriptures that He made it a trial and this particular universe He created along with the Devil the evil the negative force. Devil is like a waste a by product of creation such as you get from your factories during manufacturing something good. But there are other worlds, universes which are not like this. Which are perfect where there is no disease, no problem, no extreme heat, no extreme cold, no hunger thirst and no cause and effect like we know here.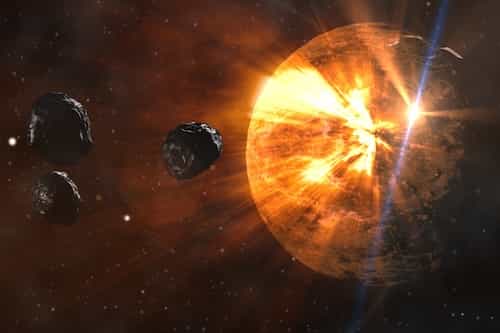 Which God is great?
Now in the same tone as skeptics argue I ask you a question, which God is great in your point of view a God who can create a perfect Universe or a God who can create all type of universes perfect imperfect every kind. If your Lord only has created perfect worlds you could have said didn't he had powers that he could have created something different?
يا أيّها الناسُ ما أصابكم من مُصيبةٍ، أو مرضٍ، أوعذابٍ، أو كارثةٍ في الأرض أو في أنفسكم، إلا وقد كتبها الله في كتابه قبل أن يخلقكم. ومهما أصابكم من مُصيبة، فإنّها بما كسبت أيديكم. ولا يُمكنكم الفرار في الأرض، وما لكم من دون اللهٍ وليٌ ولا حفيظ.
يا أيها البشر، على الرغم من أنّ الله قد جعل هذا العالم اختبارًا ، وهذا الكون ليس مكانًا مثاليًا؛ فإنّه ليس العالم الماديّ وأسبابه وتأثيراته وحدهم المسئولين عن جميع تلك الأحداث، هناك شيءٌ أخر. واسمحو لي هنا أن أرد على سؤال المُشككين حين قالوا: إذا كان هناك خالقٌ ذكيٌّ فإنّه لابد أن يظهر من خلال مخلوقاته. إنّهم يقولون أن الكون الذي نراه حولنا ليس مثاليًا. حيث استغرق الأمر حوالي 15 بليون سنة لكي يصل الكون إلى الصورة التي نراه عليها اليوم. ثم أنّ معظم الأماكن في الكون، أكثر من 99% سوف يُؤدي إلى قتل الحياة فورًا. إنّهم يقولون أن تكوين النجوم ليس مثاليًا تمامًا، حيث تم استخدام 3% فقط من الغاز من أجل هذا. معظم مدارات الكواكب الأخرى ليس مُستقرةً. إنّهم يقولون أن الكون الذي نراه حولنا ليس مثاليًا، لأنّه قد انقرض حوالي 99% من جميع أنواع الحياة التي كانت تعيش على الأرض في العصور السحيقة. ثم إنّ الأمر قد استغرق حوالي 3.5 بليون سنة لكي تنشأ حياةٌ ذكيةٌ على الأرض، عبر العديد من الحوادث والأخطاء، ثم أنّ هناك الزلازل، الفيضانات، والعيوب الخِلقيّة.
حتى الأن، هناك وجهة نظر وهى أن تلك الخطة وهذا التصميم ليسا مثاليّين. الإجابة هى أنّ هذا الكون من بين الأكوان الأخرى التي خلقها الله. الأخرى ليست مثل هذا. ومن أجل أن يصير مثاليًا، قد أخبركم الله بالفعل في الوحيّ والنصوص المُقدسة، أنّه قد جعل هذا الكون بمثابة الاختبار، وهذا الكون قد خُلق جنبًا إلى جنب مع الشيطان وقوى الشر. الشيطان مثل النفايات التي تحصل عليها من مصنعٍ يقوم بتصنيع المُنتجات الجيّدة. ولكن هناك العديد من العوالم الأخرى والأكوان التي لا تُشبه عالمنا. والتي هى مثاليةٌ، حيث لايوجد مرضٌ ولا مشاكل، لا حرارة شديدة، ولا برد قارس، ولا جوع أو عطش، وليس خاضعًا لقوانين الفعل والتأثير كما نرى هنا. الأن، وبنفس النغمة التي يُجادل بها المُشككون أنا أسأل سؤالًا، أي "إله" هو أكثر عظمةً في وجهة نظرك، الإله الذي يستطيع أن يخلق كونًا مثاليًا، أو الإله القادر على خلق جميع الأنواع من الأكوان، المثالي وغير المثالي، جميع الأنوان. إذا كان إلهكم قد خلق الأكوان المثالية فقط، فإنّ كنتم لتقولون إنّه لا يمتلك القوى الكافية ليخلق شيئًا مُختلفًا؟
Ó Humanidade, nenhum desastre, doença, aflição e calamidade atinge na terra ou dentro de si mesmos, mas está em um livro antes de seu Senhor trazê-lo à existência. E qualquer desgraça que aflige você, é por causa do que suas mãos ganharam. E você não pode escapar na terra e você não tem, além de Deus, qualquer protetor ou ajudante.
Ó humanidade, embora o seu Senhor tenha feito deste mundo uma provação e este universo não seja um lugar perfeito, mesmo que não seja apenas o mundo material e suas causas e efeitos que são responsáveis ​​por todos os eventos, há também algo mais. Deixe-me aqui também responder à questão dos céticos quando eles dizem que, se há um criador inteligente, que deve ser mostrado através de sua criação. Eles dizem que o universo que vemos ao nosso redor não é perfeito. Como demorou quase 15 bilhões de anos para chegar a este universo, vemos ao nosso redor. Do que a maioria dos lugares no universo, mais de 99% matariam a vida instantaneamente. Eles dizem que a formação de estrelas é completamente ineficiente, já que apenas 3% do gás está sendo usado para isso. A maioria das órbitas do planeta é instável. Eles ainda dizem que o universo que vemos ao nosso redor não é perfeito, pois na Terra 99% de toda a vida que já viveu, está extinto agora. Do que levou quase 3,5 bilhões de anos para obter uma vida inteligente na Terra através de vários erros de tentativas e acidentes, do que terremotos, inundações, doenças e defeitos congênitos.
Então, do ponto de vista deles, isso não é um plano ou projeto eficiente. A resposta é que esse universo é um entre outros que o seu Senhor criou. Outros não são assim. E por sua perfeição, seu Senhor já lhe disse em Suas revelações e escrituras que Ele fez disso uma prova e esse universo particular Ele criou junto com o Diabo o mal a força negativa. O diabo é como um desperdício, um subproduto da criação, tal como você obtém de suas fábricas durante a fabricação de algo bom. Mas existem outros mundos, universos que não são assim. Que são perfeitos onde não há doença, sem problemas, sem calor extremo, sem frio extremo, sem sede de fome e sem causa e efeito como conhecemos aqui. Agora, no mesmo tom que os céticos argumentam, eu faço uma pergunta, que Deus é grande no seu ponto de vista, um Deus que pode criar um Universo perfeito ou um Deus que pode criar todos os tipos de universos imperfeitos perfeitos de todo tipo. Se o seu Senhor criou apenas mundos perfeitos, você poderia ter dito que ele não tinha poderes que ele poderia ter criado algo diferente?
Oh, humanidad, ningún desastre, enfermedad, aflicción y calamidad golpea sobre la tierra o dentro de ustedes mismos, sino que está en un libro antes de que su Señor lo traiga a la existencia. Y cualquiera que sea la desgracia que te aflige, es por lo que tus manos se han ganado. Y no puedes escapar en la tierra y no tienes, además de Dios, ningún protector o ayudante.
Oh humanidad, aunque tu Señor ha hecho de este mundo una prueba y este universo no es un lugar perfecto incluso si no solo es el mundo material y su causa y efectos los responsables de todos los eventos, también hay algo más. Permítanme aquí también responder a la pregunta de los escépticos cuando dicen que si hay un creador inteligente, debe mostrarse a través de su creación. Dicen que el universo que vemos a nuestro alrededor no es perfecto. Como nos llevó casi 15 mil millones de años llegar a este universo, vemos a nuestro alrededor. Que en la mayoría de los lugares del universo, más del 99% matarían la vida al instante. Dicen que la formación estelar es completamente ineficiente, ya que solo el 3% del gas se utiliza para esto. La mayoría de las órbitas de los planetas son inestables. Dicen además que el universo que vemos a nuestro alrededor no es perfecto, ya que en la Tierra el 99% de toda la vida que alguna vez haya existido, ahora se ha extinguido. De lo que se necesitaron casi 3,5 mil millones de años para obtener una vida inteligente en la tierra a través de varios ensayos, errores y accidentes, que hay terremotos que inundan enfermedades y defectos de nacimiento.
Entonces, desde su punto de vista, este no es un plan o diseño eficiente. La respuesta es que este universo es uno entre otros que tu Señor ha creado. Otros no son así. Y por su perfección, su Señor ya le dijo en Sus revelaciones y escrituras que lo hizo una prueba y este universo particular Él creó junto con el Diablo el mal la fuerza negativa. El demonio es como un desperdicio producto secundario de la creación, tal como se obtiene de sus fábricas durante la fabricación de algo bueno. Pero hay otros mundos, universos que no son así. Que son perfectos donde no hay enfermedad, no hay problema, no hay calor extremo, ni frío extremo, ni sed de hambre, ni causa y efecto como los que conocemos aquí. Ahora, en el mismo tono en que los escépticos discuten, les hago una pregunta: Dios es grande en su punto de vista, un Dios que puede crear un Universo perfecto o un Dios que puede crear todo tipo de universos imperfectamente perfectos de cualquier tipo. Si tu Señor solo ha creado mundos perfectos, podrías haber dicho que si no tuviera poderes, ¿podría haber creado algo diferente?
اے بنی نوع انسان ، کوئی آفت، بیماری یا مصیبت زمین پر یا تم پر نہیں آتی مگر وہ ایک کتاب میں ہے اس سے پہلے کہ تمہارا خداوند اسے وجود میں لائے ۔ اور جو بھی آفت تم پر آتی ہے وہ تمہارے اپنے ہاتھوں کی کمائی ہے۔ اور تم زمین پر اس سےبچ کر کہیں بھاگ نہیں سکتےاور خدا کے علاوہ تمہارا کوئی تحفظ فراہم کرنے والا یا کوئ مددگار نہیں ہے ۔
اے بنی نوع انسان حالانکہ تمہارے خداوند نے اس دنیا کو ایک آزمائش گاہ بنایا ہےاور یہ کائنات ایک کامل جگہ نہیں ہے۔ پھر بھی صرف یہی ایک مادی دنیا نہیں ہےاور اس کے اسباب اور اثرات ہی تمام واقعات کا سبب نہیں بنتے ہیں بلکہ اس کے علاوہ بھی کچھ ہے۔ یہاں مجھے متشکک لوگوں کو جواب دینے دیجئے جو یہ کہتے ہیں کہ اگر کوئی تخلیق نگار ہے تو اسے یہ اپنی تخلیق سے ظاہر کرنا چاہئے۔ وہ کہتے ہیں کہ جو کائنات ہم اپنے گرد دیکھتے ہیں وہ کامل نہیں ہے۔ کیونکہ آج جو کائنات ہم دیکھتے ہیں اس تک پہنچنے کے لئے ہمیں 15 ارب سال انتظار کرنا پڑا ۔ پھر کائنات میں بہت سی جگہیں 99فیصد سے ذیادہ زندگی کو فوراً ختم کر دیتی ہیں ۔ وہ کہتے ہیں کہ ستاروں کا بننا بالکل کامل نہئ ہے کیونکہ اس کے لئے صرف 3فیصد گیس استعمال ہو رہی ہے۔ اکثر سیاروں کے مدار مستحکم نہیں ہیں ۔ اور وہ مزید کہتے ہیں کہ جو کائنات ہم اپنے گرد دیکھتے ہیں وہ کامل نہیں ہیں کیونکہ زمین پر اب تک رہنے والی تمام زندگیوں میں سے 99 فیصد اب موجود نہیں ہے۔ پھر زمین پر غلطیوں اور اصلاح اور مختلف حادثات کے ذریعے سے ایک ذہانت بھری زندگی پیدا ہونے کے لئے3.5 ارب سال لگے۔ پھر یہاں زلزے، سیلاب، وبا اور پیدائشی نقائص ہیں۔
سو ان کے نظریے کے مطابق یہ ایک موثر منصوبہ یا ڈیزائن نہیں ہے۔ جواب یہ ہے کہ یہ کائنات بہت سی کائنات میں سے ایک ہے جسے تمہارے رب نے تخلیق کیا۔ دوسری اس کی طرح نہیں ہیں ۔ اور اس کی کاملیت کے بارے میں تمہارے خداوند نے تمہیں پہلے ہی اپنے وحی اور صحیفوں میں بتا دیا ہے کہ اس نے اسے ایک آزمائش کے طور پر بنایا اور اس مخصوص کائنات میں اس نے شیطان کی منفی طاقت کو بھی تخلیق کیا۔ شیطان ایک کچرے کی طرح تخلیق کی پیدائش کی ضمنی پیداوار ہے جیسا کے تمہاری فیکٹریوں میں کچھ اچھی مصنوعات کی پیداوار کے ساتھ کچھ فاضل مادہ بھی پیدا ہوتا ہے۔ لیکن اس کے علاوہ اور دنیائیں اور کائناتیں بھی ہیں جو اس کی مانند نہیں ہیں ۔ جو کامل ہیں ۔ جن میں کوئی بیماری، مسئلہ ، شدید گرمی، شدید ٹھنڈ، بھوک پیاس اور کوئی اسباب اور اثرات نہیں ہیں جیسے کہ یہاں ہیں ۔ اب میں متشکک لوگوں کے ہی انداز میں آپ سے ایک سوال پوچھتا ہوں ۔ آپ کے خیال میں کونسا خدا عظیم ہے۔ وہ خدا جس نے ایک کامل کائنات کی تخلیق کی یا وہ خدا جو کامل اور غیر کامل ہر طرح کی کائنات تخلیق کرسکتا ہے۔ اگر تمہارے خداوند نے صرف کامل دنیائیں ہی تخلیق کیں ھوتیں تو تم کہہ سکتے تھے کہ کیا اس کے پاس کچھ مختلف تخلیق کرنے کی طاقت نہیں تھی ؟