What is Religion. How Religion evolved. The core theme of Religion. Power of Science.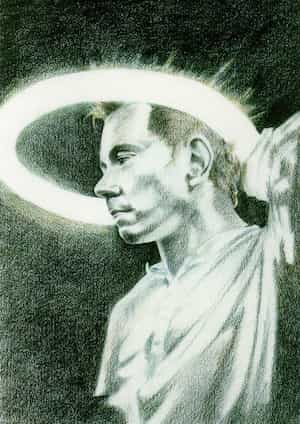 Coming to my point every religion is basically a set of beliefs about cosmology that how everything around us is working, why and how it is created and what is its purpose.
Cosmology is the core theme of a religion
On earth religions evolved with human species and we have whole history of different types of religions from ancient Egyptians and greek mythology till Sikhism. In ancient times many mythological religions were established by their founders by way of telling their people that certain things were beneficial for them and for their survival like clouds, rain and sun etc. without which they couldn't had crops. Then they built a complete theory of cosmology that how this all process works why sometime it rained and sometime it didn't. Than they described their people the reasons because of which god becomes angry or pleased and that they need to please the god by giving something some sacrifice. Than they built a whole set of jurisprudence around that cosmology which included sacrifices, gifts to gods, gathering and worshipping at some specific day of the week to please the god. Even in the oldest religions of world this principal was working. Cosmology is the core the center the theme of a religion whether its a pseudo, mythological or a true religion.
Therefore you need to understand how this universe is working. How your Lord is running this universe in justice. Fine details of jurisprudence which are already there in scriptures will come later.

Science is the only knowledge of the universe all others are superstitions
Keep in mind in God's religion there is no superstition, your Lord is one Lord and Religion is only one for all of you that is submission to The Only One The Almighty The All Wise. Laws of physics are the Laws of your Lord which we are exploring day by day. Through these laws your Lord is running this universe of yours. This is the only knowledge of the universe all others are superstitions. Remember science is so much powerful that we would be considered as gods by those before us if we manage to go back just thousand years in the past. There is a quote from a physicist "Any sufficiently advanced technology is indistinguishable from divinity"
يُمكنني أنْ أدرك أنّ البرامج القليلة القادمة قد تصبح تقنية قليلًا بالنسبة للمُستمع العادي ولكن من المهم جدًا مُناقشة وتلخيص هذه القضايا الهامة قبل الدخول في المستوى التالي من هذا البرنامج. لنصل إلى وجهة نظري بخصوص أن كل دين هو في الأساس مجموعةٌ من المُعتقدات حول علوم الكون، كيف يعمل كل شيء من حولنا ، لماذا وكيف يتم إنشاؤه وما هو الغرض منه. على الأرض تطورت ديانات مُختلفة مع البشرية ولدينا تاريخٌ كامل من أنواع مختلفة من الأديان من المصريين القدماء والأساطير اليونانية حتى السيخية. في العصور القديمة تم تأسيس العديد من الديانات الأسطورية من قبل مؤسسيها عن طريق إخبار شعبهم بأن أشياءًا معينًاة كانت مفيدةً لهم ولبقائهم على قيد الحياة مثل الغيوم والمطر والشمس وما إلى ذلك، والذين لن يتمكنوا من الحصول على المحاصيل بدونها. ثم قاموا ببناء نظرية كاملةٍ لعلم الكونيات كيف أن هذه العملية كلها تعمل لماذا في بعض الأحيان تمُطر وأحيانًا لا. ثم وصفوا لشعبهم الأسباب التي تجعل الإله غاضبًا أو سعيدًا، وأنّهم بحاجةٍ لإرضاء الله من خلال تقديم أي شيء- بعض التضحية. ثم قاموا ببناء مجموعةٍ كاملةٍ من الفقه والعلم حول أن علم الكونيات التي شملت التضحيات والهدايا للآلهة، والتجمعات والعبادة في يوم معين من أيام الأسبوع كل ذلك يهدف إلى إرضاء الإله. حتى في أقدم الديانات في العالم كان هذا المبدء موجودًا. علم الكونيات هو جوهر، مركز، موضوع أي دين سواء كان زائفًا، أسطوريًا أو دينًا حقيقيًا.
لذلك عليك أن تفهم كي