Battle of Siffin-2: The Beginning of the Battle, aftermath and impact on Muslim history.

Recitation of the Holy Scripture.
Do you consider giving water to pilgrims and maintaining the Sacred Mosque the same as believing in God and the Last Day and striving in God's path? They are not equal in God's sight. God does not guide the unjust people.
Those who believe, emigrate and strive in the way of God with their wealth and their lives are greater in rank in the sight of God. And they are the successful.
Their Lord announces to them the good news of mercy from Him, and acceptance, and gardens wherein they will have lasting bliss.
They will abide in it forever. Indeed, with God is a great reward.
End of Recitation of the Holy Scripture.
Battle of Safeen
Preparation of the Battle
In Part 30 of this dialogue, I told you about the battle of Jamal and then moved towards Muawiya who raised the entire country of Syria against Ali. Despite many efforts of negotiation by Ali the same year in July 657 AD the battle of Siffin took place between Ali and Mauwiya at Siffin on the banks of the Euphrates river, in what is now Raqqa in Syria. The two armies camped themselves at Siffin for more than one hundred days.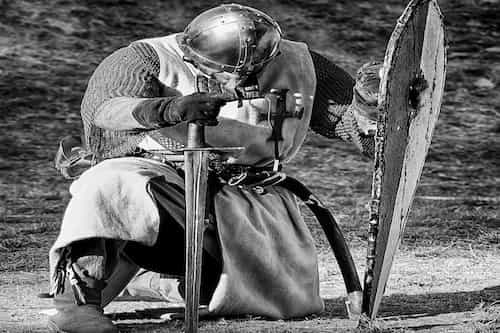 Battle of Siffin: The Main Engagement
Ali had 80,000 men, including 70 Companions of prophet who participated in the Battle of Badr, 70 Companions who took oath at Hudaibia, and 400 prominent Ansars and Muhajirun; while Muawiya had 120,000 Syrians. In 100 days Ali's forces lost 25,000 men, while