Destiny, Fate, Karma, Qadar, Determinism and Freewill-5

Please read Free will is an illusion, Do not blame your destiny, Freewill in Religion, Evil not to be attributed to God, A Universe of Possibilities in conjunction with this article. OR Read the compilation of all six Articles here Determinism and Freewill(Complete).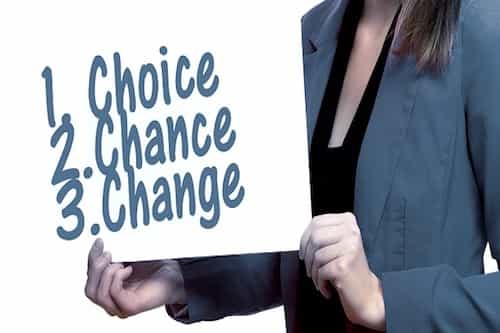 God has made for you choices and options which pop up every second
O mankind your Lord does not punish people on their first sins. He gives them chance to repent. It is not actually the sin, wrongdoing or injustice that is bad in the eyes of your Lord but it is its repetition. Repeating a wrong act again and again, not repenting and not feeling it wrong is what is bad. O people it is a world, a universe of possibilities where anyone can reach to any level. God has made for you choices and options which pop up every second and He has given you free will to choose among these options. There is no limit. If you are a poor person or even a slave, you can become a king a ruler. O people if you are feeling miserable and feel yourself in a vicious cycle from where there is no way out just start doing one thing only. Start choosing every moment those options which are best in terms of morality. Don't consider even for a second at those options which you think are good to achieve your purpose but have something morally wrong in them. Your Lord has made this Universe like that. If you choose morally wrong options He will only punish you when you keep on doing its repetition and if you choose right options He will soon take you out of misery and vicious cycle and will send His blessings from where you would have not imagined.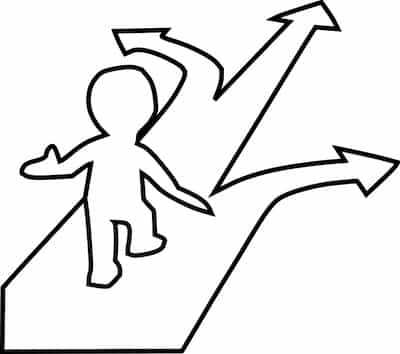 Consider an Example: Options Theory
To understand it more I give you an example consider that you are sitting with your wife and as you have free will and options all the time. You utilize the option of moving your hand and it happens that it touches your wife's eye and hurt her. Now as soon as it happens another set of options and choices open up for you that either admit your mistake and ask her sorry or another option to say that it was her fault why she brought her face near your hand, or to become more irrational and react in anger, so on and so forth. If you choose the first option that matter closes as such with good impression of yours in her mind and some other matter starts simultaneously. But if you select second or third option the next outcome most probably will be that she will react and may be start arguing with you saying that you are an ill mannered person and you end up in abusing her. Keeping it short and just for understanding the concept and this example, you may ask her to leave your home. She starts weeping and crying. Now a set of other options and choices open up for you either you now realize your mistake and say sorry or remain stubborn and keep on repeating the wrong thing. If you choose the first option than that matter closes as such and some other matter starts simultaneously.

Every choice of yours creates a new universe
But if you select the second option that is again a morally wrong option a new scenarios will pop up out of it. She leaves the house and may be that matter ends up on divorce. Again many options for you but if you keep on choosing the wrong one it will end up on divorce. Then see you have a totally different world in front of your eyes in which you are in deep pain and lonely and have a feel of guilt in your heart. So you would have a punishment here and as well as in hereafter. You can clearly see that you have not been punished on the wrong act but on its repetition. This example can be taken both ways with wife as an aggressor. As these days women also do much wrong.
يا أيّها النّاس؛ إن الله لا يعاقبكم على ذنوبكم الأولى بل يعطيكم فرصة للتوبة. في الواقع ليس الذنب او الظلم هو الفساد في عين ربّكم، بل تكرار هذة الأخطاء مرّة أخرى، فعدم التوبة وعدم الإحساس بالأخطاء هو الفساد.
إنّ العالم مليئٌ بالإحتمالات حيث يمكن لأيّ شخص أن يصل لأيّ مستوى. فقد أتاح الله لنا الإختيارات التي تظهر في كل ثانية وترك لنا حريّة الإختيار بين تلك الخيارات، فلا يوجد حدود. إذا كنت رجل فقير او حتّى عبد فقد يمكنك أن تصبح ملكٌ وحاكم. إذا شعرتُم بالبؤس وشعرتُم أنّكم في حلقة مغلقة حيث لا طريق للخروج، افعلوا شئ واحد فقط؛ ابدأوا بإختيار أفضل الخيارات أخلاقيًّا ولا تنظروا ولو لثانية للخيارات التي تعتبرونها جيّدة لمجرّد أنّها تحقّق أهدافكم ولكنّها غير سويّة أخلاقيًّا. فقد جعل الله-عزّ وجلّ- الكون مثل ذلك؛ إذا إخترتم إختيار غير أخلاقيّ سوف يعاقبكم حينما تستمرّون على فعله، وإذا إخترتم إختيار أخلاقيّ سيأخذكم بعيدًا عن البؤس والدائرة المغلقه وسيمدُّكم بالسرور والبركة التي لا يمكنكم تخيّلها.
لفهم هذا أكثر سأعطي لكم مثال: تخيّل أنّك تجلس مع زوجتك وبما أنّك تملك الحرّيّة والإرادة والإختيارات طوال الوقت، قمت بإستغلال هذا في تحريك يديك ثم اصطدمت بعين زوجتك وتسببت في وجعها. الآن وبمجرّد حدوث هذا يوجد مجموعة من الخيارات المتاحة أمامك؛ إمّا تتقبّل خطأك وتعتذر لها أو أن تخبرها أنه خطأها فلماذا وضعت وجهها قريبًا من يديك؟ أو أن تصبح غير منطقي أكثر وتتصرّف بغضب من الآن وصاعدًا. إذا أخترت الخيار الأوّل؛ فسيعطي هذا إنطباعًا جيّدًا عنك في عقل زوجتك، ولكن إذا إخترت الخيار الثاني أو الثالث ففي الغالب ستنفعل زوجتك وتبدأ في الجدال معك وقد تخبرك أنّك شخص فظّ وينتهي بك الأمر في الإساءة لها. بغضّ النظر عن هذا ومجرّد فهم المبدأ او هذا المثال، قد تطلب منها مغادرة المنزل، فتبدأ في البكاء. الآن المزيد من الخيارات تظهر أمامك، إمّا أن تتفهّم خطأك وتعتذر أو أن تبقى عنيدًا مصرًّا على تكرار خطأك. إذا إخترت الخيار الأوّل سينتهي الخلاف على هذا النحو، وإذا إخترت الخيار الثاني الغير أخلاقي مرّة أخرى قد تظهر لك خلافات جديدة. ستغادر الزوجة المنزل وقد ينتهي هذا بالطلاق. مرّة أخرى هناك المزيد من الخيارات ولكن إذا أصررت على الخيار الخاطئ سينتهي الأمر بالطلاق. الآن لديك عالم مختلف تمامًا أمام عينيك تكون فيه وحيدًا في ألم شديد وتشعر بالذنب من داخلك. إذن سيكون هذا العقاب، وكذلك في الآخرة. يمكن أن ترى بوضوح أنّك لم تُعاقب على الخطأ ولكنّك عوقبت على تكراره. هذا المثال يُمكن أن يؤخذ في كلا الحالتين، فقد تكون المرأة هي المُعتدي. ففي هذة الأيّام ترتكب النساء الكثير من الأخطاء.
Ó humanidade, seu Senhor não pune as pessoas pelos seus primeiros pecados. Ele lhes dá chance de se arrepender. Não é realmente o pecado, a injustiça ou injustiça que é ruim aos olhos do seu Senhor, mas é a sua repetição. Repetir um ato errado de novo e de novo, não se arrepender e não sentir errado é o que é ruim. Ó povo é um mundo, um universo de possibilidades onde qualquer um pode chegar a qualquer nível. Deus fez para você escolhas e opções que surgem a cada segundo e Ele lhe deu livre arbítrio para escolher entre essas opções. Não há limite. Se você é uma pessoa pobre ou até mesmo um escravo, você pode se tornar um rei um governante. Ó pessoas, se você está se sentindo infeliz e se sente em um ciclo vicioso de onde não há saída, apenas comece a fazer uma coisa só. Comece a escolher a cada momento as opções que são melhores em termos de moralidade. Não pense nem por um segundo naquelas opções que você acha que são boas para alcançar seu objetivo, mas que tem algo moralmente errado nelas. Seu Senhor fez este Universo assim. Se você escolher opções moralmente erradas, Ele só irá puni-lo quando você continuar fazendo sua repetição e se você escolher as opções certas. Ele logo o tirará da miséria e do ciclo vicioso e enviará Suas bênçãos de onde você não teria imaginado.
Para entender mais, dou-lhe um exemplo, considere que você está sentado com sua esposa e como você tem livre arbítrio e opções o tempo todo. Você utiliza a opção de mover a mão e acontece que ela toca o olho da sua esposa e a magoa. Agora, assim que acontecer, outro conjunto de opções e escolhas se abrirá para você, ou admitirá seu erro e lhe pedirá desculpas ou outra opção para dizer que foi culpa dela por que ela aproximou seu rosto ou se tornou mais irracional e reaja com raiva, e assim por diante. Se você escolher a primeira opção, a questão se encerra como tal, com uma boa impressão sua em sua mente e outra questão começa simultaneamente. Mas se você selecionar a segunda ou terceira opção, o próximo resultado provavelmente será que ela vai reagir e pode começar a discutir com você dizendo que você é uma pessoa mal-educada e acaba abusando dela. Mantendo-o curto e apenas para entender o conceito e este exemplo, você pode pedir a ela que deixe sua casa. Ela começa a chorar e a chorar. Agora, um conjunto de outras opções e escolhas se abre para você, agora você percebe seu erro e pede desculpas ou permanece teimoso e continua repetindo a coisa errada. Se você escolher a primeira opção, o assunto é encerrado e outras questões começam simultaneamente. Mas se você selecionar a segunda opção que é novamente uma opção moralmente errada, um novo cenário surgirá dela. Ela sai de casa e pode ser que o assunto acabe em divórcio. Mais uma vez muitas opções para você, mas se você continuar escolhendo o errado vai acabar em divórcio. Então veja que você tem um mundo totalmente diferente na frente dos seus olhos, no qual você está com uma dor profunda e solitária e tem uma sensação de culpa em seu coração. Então você teria um castigo aqui e assim como no futuro. Você pode ver claramente que você não foi punido pelo ato errado, mas por sua repetição. Este exemplo pode ser tomado em ambos os sentidos com a esposa como agressora. Hoje em dia as mulheres também fazem muito mal.
Oh, humanidad, tu Señor no castiga a las personas por sus primeros pecados. Él les da la oportunidad de arrepentirse. En realidad, no es el pecado, el mal o la injusticia lo que es malo a los ojos de su Señor, sino su repetición. Repetir un acto equivocado una y otra vez, no arrepentirse y no sentirlo mal es lo malo. Oh, gente, es un mundo, un universo de posibilidades donde cualquiera puede alcanzar cualquier nivel. Dios ha creado para usted opciones y opciones que aparecen cada segundo y le ha dado libre albedrío para elegir entre estas opciones. No hay límite. Si eres una persona pobre o incluso esclava, puedes convertirte en un rey gobernante. Oh gente si te sientes miserable y te sientes en un círculo vicioso desde donde no hay salida, solo comienza a hacer una sola cosa. Comience a elegir en todo momento las opciones que sean mejores en términos de moralidad. No considere ni siquiera por un segundo las opciones que cree que son buenas para lograr su propósito, pero que tienen algo moralmente incorrecto en ellas. Tu Señor ha hecho este Universo así. Si eliges opciones moralmente incorrectas, Él solo te castigará cuando sigas haciendo su repetición y si eliges las opciones correctas, Él pronto te sacará de la miseria y del círculo vicioso y enviará Sus bendiciones desde donde no hubieras imaginado.
Para entenderlo más te doy un ejemplo, considera que estás sentado con tu esposa y que tienes libre albedrío y opciones todo el tiempo. Utiliza la opción de mover la mano y sucede que toca el ojo de su esposa y la lastima. Ahora, tan pronto como sucede, se abren para ti otras opciones y opciones que admiten tu error y le piden disculpas u otra opción para decir que fue su culpa por qué acercó su rostro a tu mano, o para volverse más irracional y reacciona con enojo, etcétera. Si eliges la primera opción, la materia se cierra como tal, con una buena impresión tuya en su mente y otra cuestión que se inicia simultáneamente. Pero si selecciona la segunda o tercera opción, lo más probable es que ella reaccione y comience a discutir con usted diciéndole que es una persona maleducada y termina abusando de ella. Manteniéndolo corto y solo para comprender el concepto y este ejemplo, puede pedirle que se vaya de su casa. Ella comienza a llorar y llorar. Ahora se abren para ti otras opciones y opciones; o bien te das cuenta de tu error y le pides disculpas o te muestras obstinado y sigues repitiendo algo equivocado. Si eliges la primera opción, ese asunto se cierra como tal y otro asunto se inicia simultáneamente. Pero si selecciona la segunda opción que nuevamente es una opción moralmente incorrecta, surgirán nuevos escenarios. Ella se va de la casa y es posible que la cuestión termine con el divorcio. Una vez más, muchas opciones para usted, pero si sigue eligiendo la incorrecta, terminará en divorcio. Luego, observa que tienes un mundo totalmente diferente frente a tus ojos en el que estás sumido en un dolor profundo y solitario, y tienes un sentimiento de culpabilidad en tu corazón. Entonces tendrías un castigo aquí y también en el más allá. Puedes ver claramente que no has sido castigado por el acto incorrecto, sino por su repetición. Este ejemplo se puede tomar en ambos sentidos con la esposa como agresor. Como en estos días las mujeres también hacen mucho mal.
اے لوگو ، تمہارا رب لوگوں کو ان کے پہلے گناہوں پر سزا نہیں دیتا۔ وہ انہیں توبہ کرنے کا موقع دیتا ہے۔ درحقیقت تمہارے رب کی نگاہ میں غلط افعال یا بے انصافی اصل گناہ نہیں ہیں بلکہ ان کو دہرانا گناہ ہے۔ بار بار کسی غلط کام کو کرنا، توبہ نہ کرنا، اور اس پر پچھتاوا محسوس نہ کرنا دراصل بُرا ہے۔ اے لوگو، یہ ایک ممکنات کی دُنیا ہے ، ممکنات کی کائنات ، جہاں کوئی بھی کسی بھی درجے تک پہنچ سکتا ہے۔ خدا نے تمہیں چناؤ اور انتخابات دیے ہیں جو ہر لمحہ تمہارے سامنے ابھرتے ہیں اور اس نے تمہیں ان کے چناؤ کی مکمل آذادی دی ہے ۔ یہاں کوئی حد نہیں ہے۔ اگر آپ ایک غریب شخص ہو ں یا چاہے ایک غلام ہوں ، آپ ایک حاکم یا بادشاہ بن سکتے ہیں ۔ اے لوگوں اگر آپ خود کو مصیبت میں محسوس کر رہے ہیں اور سو چتے ہیں کہ آپ ایک بھیانک چکر میں پھنسے ہوئے ہیں جس سے باہر نکلنے کا کوئی راستہ نہیں ہے تو صرف ایک کام کرنا شروع کریں ۔ ہر لمحے ان انتخابات کا چناؤ کریں جو اخلاقی طور پر درست ہیں ۔ ایک لمحے کے لئے بھی ان انتخابات کے بارے میں نہ سوچیں جو آپ کے مقصد کے حصول میں آپ کی مدد کر سکتے ہیں لیکن وہ اخلاقی طور پر درست نہیں ہیں ۔ آپ کے رب نے اسی طرح سے کائنات کو بنایا ہے۔ اگر آپ غیر اخلاقی انتخابات کا چناؤ کریں گے تو وہ آپ کو صرف تبھی سزا دے گا جب آپ انہیں دہراتے رہیں گے۔ اور اگر آپ صحیح انتخابات کا چناؤ کریں گے تو وہ آپ کو جلد ہی مصیبت اور بھیانک چکر سے نکال لے گا اور آپ پر اتنی رحمتیں برسائے گا کہ آپ نے سوچا بھی نہیں ہوگا۔
اس کو مزید سمجھنے کے لئے میں آپ کو ایک مثال دیتا ہوں۔ تصور کیجئے کہ آپ اپنی اہلیہ کے ساتھ بیٹھے ہیں اور چونکہ آپ کے پاس انتخابات اور آذاد مرضی ہمیشہ رہتی ہے تو آپ اپنا ہاتھ ہلانے کا اختیار استعمال کرتے ہیں اور وہ غلطی سے آپ کی اہلیہ کی آنکھ میں لگ جاتا اور اسے زخمی کر دیتا ہے۔ تو اس کے وقوع پذیر ہوتے ہی آپ کے سامنے چناؤ اور انتخابات کا ایک نیا مجموعہ آ جاتا ہے کہ یا تو آپ اپنی غلطی مان کر اس سے معافی مانگ لیں یا پھر اسے کہیں کہ یہ اس کی غلطی ہے اور وہ کیوں اپنا چہرہ آپ کے ہاتھ کے قریب لائی یا اس سے بھی ذیادہ غیر معقول ہو جائیں اور اس پر ناراض ہوں وغیرہ وغیرہ۔ اگر آپ پہلا انتخاب چنتے ہیں اس پر اس کے ذہن میں آپ کے اچھے تاثر کے ساتھ معاملہ وہاں ہی ختم ہو جائے گا اور ساتھ ہی کوئی اور معاملہ شروع ہو جائے گا۔ لیکن اگر آپ دوسرے یا تیسرے انتخاب کا چناؤ کریں گے تو اگلا نتیجہ زیادہ ممکنہ طور پریہ ہو سکتا ہے کہ اسکا بھی ردعمل آئے اور وہ آپ کے ساتھ بحث کرنا شروع کر دے کہ آپ کو تمیز نہیں ہے اور آخر کار آپ اسے گالیاں دینی شروع کر دیں۔ اس با ت اور مثال کو سمجھانے کے غرض سے اسے مختصر رکھتے ہوئے آپ اسے گھر چھوڑ نے کا کہہ سکتے ہیں اور وہ رونا اور چلانا شروع کر دے۔ اب آپ کے سامنے ایک اور چناؤ اور انتخابات کا نیا مجموعہ آ جاتا ہے کہ یا تو آپ کو اپنی غلطی کا احساس ہو اور اس سے معافی مانگ لیں یا پھر اپنی ضد پر اڑے رہیں اور غلط باتیں کہتے رہیں ۔ پہلے چناؤ کی صورت میں معاملہ وہیں ختم ہو جائے گااور ساتھ ہی کسی دوسرے معاملے کا آغاز ہو جاے گا ۔ لیکن اگر آپ دوسرا چناؤ کرتے ہیں جو کہ دوبارہ ایک غیر اخلاقی چناؤ ہے تو اس سے ایک نئی صورتحال پیدا ہو جائیگی۔ وہ گھر چھوڑ دے گی اور شاید یہ معاملہ طلاق تک جا پہنچے۔ تب آپ کو اپنی آنکھوں کے آگے بالکل ایک مختلف دنیا دکھائی دے گی جہاں آپ گہرے دکھ میں ہوں اور اکیلے ہوں اور اپنے دل میں پچھتاوا محسوس کریں ۔ لہٰذا آپ کے لئے یہاں سزا ہوگی اور آخرت میں بھی ۔ آپ صاف طور پر دیکھ سکتے ہیں کہ آپ کو غلط فعل پر سزا نہیں ملی لیکن اس کے دہرائے جانے پر ملی ہے۔ یہ مثال دونوں طرف لی جا سکتی ہے اگر اہلیہ جارحیت پسند ہے تو یہ مثال اس پر بھی لاگو ہو سکتی ہے کیونکہ آجکل خواتین بھی کچھ کم غلط نہیں ہیں ۔