The Birth of Pakistan, Iran and Saudi Arabia
Mughals, Safavids, Emirate of Diriyah And The Birth of Pakistan, Iran and Saudi Arabia

Recitation of the Holy Scripture.
Whoever God guides – he is the rightly guided; and whoever He sends astray – it is those who are the losers.
And We have certainly created for Hell many of the jinn and mankind. They have hearts with which they do not understand, they have eyes with which they do not see, and they have ears with which they do not hear. Those are like livestock; rather, they are more astray. It is they who are the heedless.
And among those We created are people who guide by truth and thereby establish justice.
But those who deny Our signs – We will progressively lead them to destruction from where they do not know.
And I will give them time. Indeed, my plan is firm.
End of Recitation of the Holy Scripture.

O People in this tale of a nation previous program and in part 37 of this dialogue I was telling you a summary of Muslims history after Hussein till today and ended at Mongol Empire's conversion to Islam.
Timurid Dynasty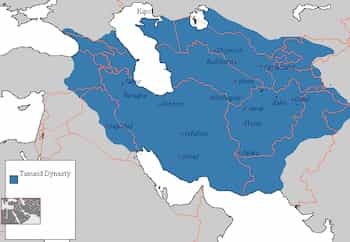 Now let me tell you briefly about Mughals, Safavids and the Emirate of Diriyah and how these ended as the modern-day states of Pakistan, Iran and Saudi Arabia. But before Mughals let me tell you a little about Timurid dynasty, founded by the famous warlord Timur. Who was an official of Chughtai Khanate but he became so powerful that the rulers were just like puppets in his hands. This dynasty also known as Gurkani empire a derived word from the Mongolian language which means son-in-law. As they were in-laws of the line of Genghis Khan founder of the Mongol Empire. Timur defeated and got possession of many states of Ikhannate and Golden Horde and in 1401-1402AD he destroyed Baghdad and defeated the Ottomans in the Battle of Ankara.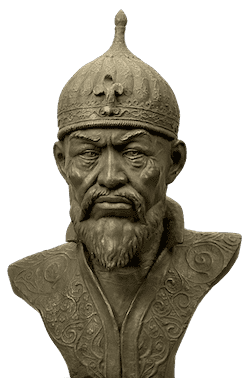 This made Timur the most powerful Muslim ruler of that time which also caused a civil war in Ottoman Empire. The same time he made Samarkand as his capital. Timurids were strongly influenced by Persian culture and ruled over a vast region that included almost the entire modern-day Turkey, the Caucasus (Georgia, Armenia, Azerbaijan), Syria, Iran, Iraq, Central Asia, Afghanistan and Pakistan. This family established two empires, the Timurid Empire 1370–1507 based in Persia and Central Asia and the Mughal Empire 1526–1857 based in the Indian subcontinent. In the 1500s the dynasty lost control over its territories. The western area of Iraq, Persia, Turkey and Caucasus fell to the Shiite Safavid dynasty founded by Shah Ismail I and Central Asia to Muhammad Shaybani after he conquered Herat and Samarkand and founded the Khanate of Bukhara. But the area from Kabul to India came in the hands of Babur a descendant of Timur who later founded the Mughal Empire in 1526AD.
Mughal Empire
From Babur Till Birth Of Pakistan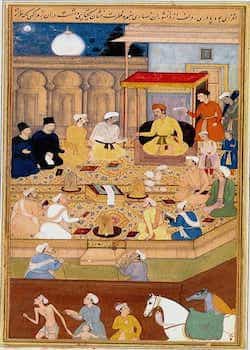 So the Mughal Empire founded in 1526 and lasted till 1857AD except for a 15 years gap from 1540-1555AD in which it took over by Sur Dynasty founded by Sher Shah Suri. The Mughal Empire was founded by Babur who is a descendant from Turco-Mongol blood of Timur from his father side and Chughtai, the son of Gangez Khan from his mother side. He defeated Ibrahim Lodi in the first battle of Panipat in 1526AD. Only first two rulers Babur and Homayoun were pure Central Asian while others were mixed blood due to intermarriages with Persians and Rajputs. Empire extended all of the subcontinent and significant parts of Afghanistan. World's largest economic power with 25% of World GDP and one of three Islamic Gunpowder empires others being Ottomans and Safavids. The empire saw its peak in the reign of Akbar 1556-1605AD and Jahangir 1605-1627AD. Later in 18th-century empire started losing control due to Marhata insurgencies resulted in the separation of independent states by Nawab of Bengal, the Nawab of Awadh and the Nizam of Hyderabad. Then in 1739 Nader Shah of Iran the founder of the Afsharid dynasty defeated Mughal emperor Muhammad Shah in Battle of Karnal and Delhi was sacked and looted and in lieu of mercy to Muhammad Shah, he took the famous Peacock Throne served as a symbol of Persian imperial might. He also looted the Koh-i-Noor and Darya-ye Noor diamonds.

After these incidents, the Mughal empire started shrinking in size and the last ruler, Bahadur Shah II, had control over only the city of Shahjahanabad. Bahadur Shah after defeat in 1857 war was tried by British East India Company for treason and exiled to Rangoon. Thus is the beginning of Britsih Raj in India that started thru the East India company which was established in 1600AD for Trade. Company interests turned from trade to territory during the 18th century as the Mughal Empire started declining in power. But after the end of Mughals in 1857AD British and its Allies faced many wars against Russia and Germany and after World War II Britain started losing controls over its colonies thus in 1947AD and after World War II a new Muslim country Pakistan born in this region of the subcontinent.
Safavid Empire
From Shah Ismail Till Birth Of Iran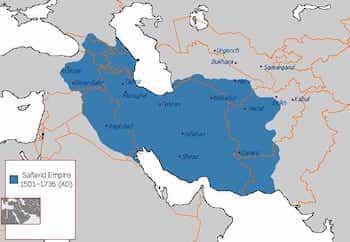 Now let's turn towards the Safavid empire the Safavid dynasty, founded by Ismail I in 1501 and lasts till 1736AD. Safavid dynasty is one of three Islamic Gunpowder Empires and one of the greatest Iranian Empire after Sasanian Empire that has a native unified Iranian state. It is considered as the beginning of modern Iran history and the first to establish Twelver Shia Islam as the official